It's easy to see that we're in the midst of a mobile movement (I will refrain from calling it the year of mobile). We have known for a while that mobile ad spend and mobile ad performance will begin to surpass desktop. Thanks to the information released earlier this year from eMarketer.com, it's easy to see that ad spend is nearly neck-and-neck this year (2015) on mobile and desktop, but in 2016 mobile will overtake ad spend on PCs.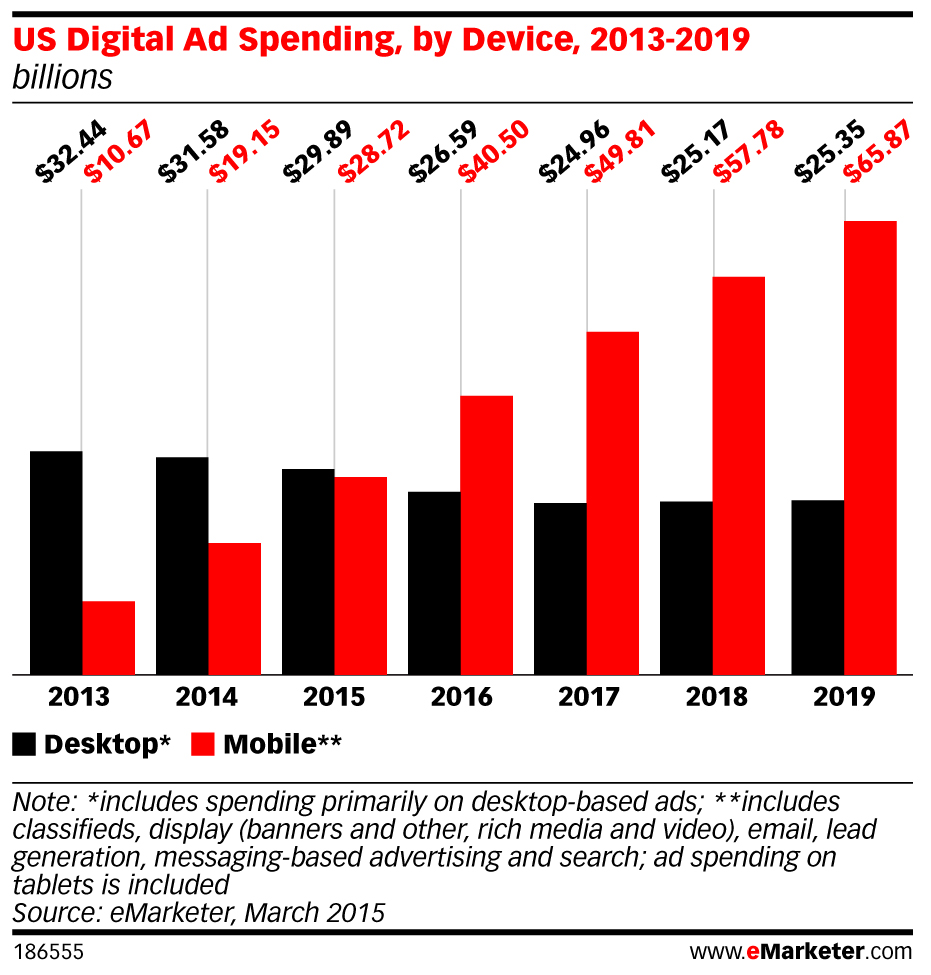 At Acquisio, we looked at the data from more than 5000 accounts to come to our own conclusions about mobile ad spending performance compared to desktop performance.
Looking at where people prefer to click, where marketers prefer to spend and the CPC and CPA performance for both mobile and PC devices, we have found that mobile is already surpassing desktop performance.
Mobile vs Desktop: Where People Click
We looked at our mobile versus PC data since March (when the eMarketer study was released). For the past several months, more people clicked on ads on mobile devices than on PC, and in the last 2 months, there was a significant increase in the number of clicks on mobile, while the number of ad clicks on PC devices remained relatively stable.
More people click on mobile ads than PC, and mobile performance is growing faster!
Another significant piece of information we learned is that on weekends, there is a significant increase in clicks for mobile, yet there is a marked decrease for PC.
The orange vertical lines highlight when the weekend hits. For mobile, there are consistent peaks each weekend. For PC, every weekend there is a dip in the number of clicks.
On weekends, clicks on mobile ads spike and clicks on desktop ads dip down.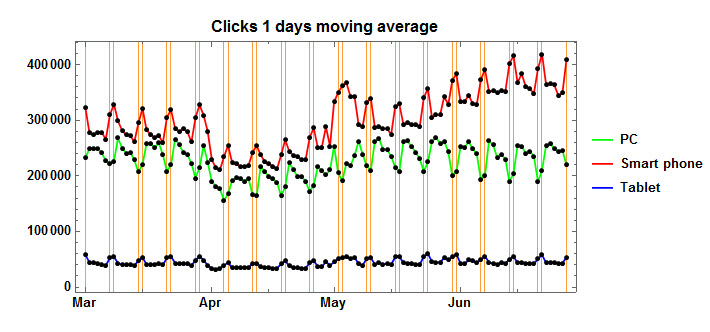 Mobile vs Desktop: CPC Performance
Despite the difference in performance on each device type, both Mobile and PC ads have a lower CPC on the weekends. 
In terms of CPC, tablets show more of a resemblance to PC ads rather than mobile. The CPC for PC and Tablets are very similar and both trending up in price.
The CPC for Mobile is much lower than Desktop, costing 35% less per click than PC, and the difference continues to diverge.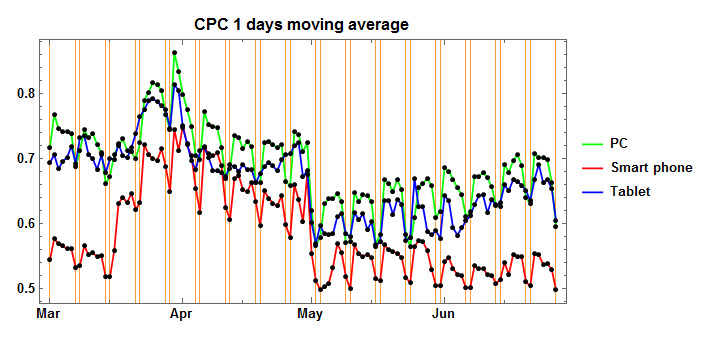 Mobile vs Desktop: Ad Spend
We also found that there is more spend for mobile ads than PC ads, especially on weekends when spend on PC takes a significant dive.
Overall, the gap in spend between ads on mobile and PC devices is growing, with more marketers spending on mobile.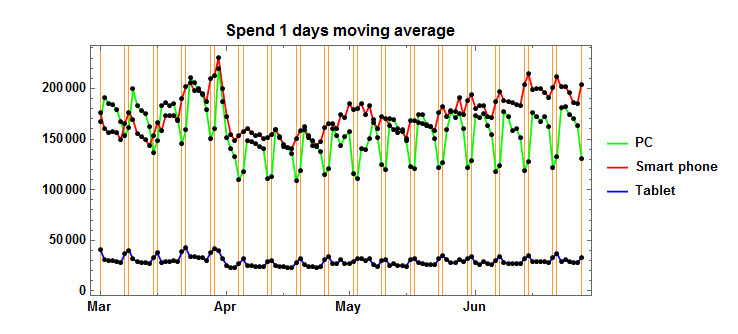 Put another way, the majority of daily spend is going to mobile and this is increasing, with nearly 70% of weekend spend on mobile!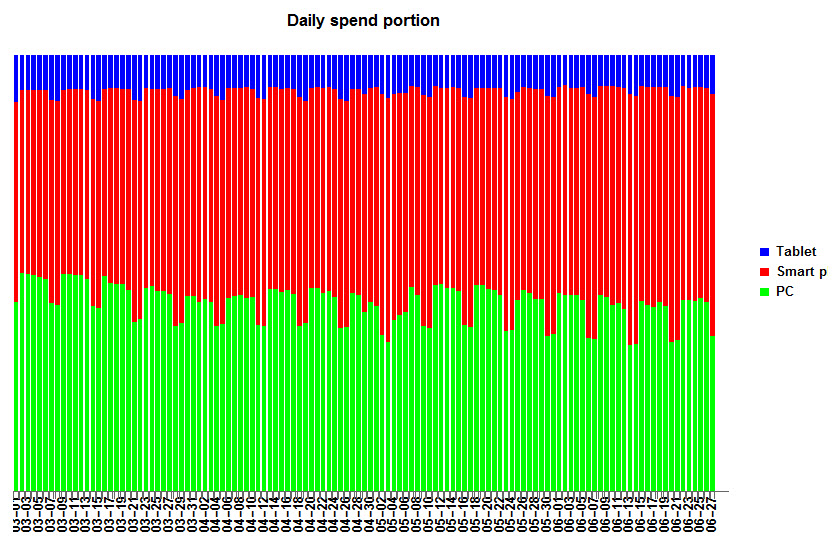 Mobile vs Desktop: CPA Performance
Looking at the CPA for each device, there is a drastic difference between Mobile, Desktop and Tablets.
(The CPA performance for tablet ads is significantly higher than desktop. Since tablet CPA should be similar to the CPA for desktop ads, this implies that a significant percentage of tablets must have conversion tracking that is not working.)
At the end of April, to coincide with Mobilegeddon (when Google AdWords prioritized mobile-friendly webpages), there is a sharp drop in mobile ad CPA, meaning it cost marketers less to get a conversion from mobile after these algorithm changes were implemented.
Mobile ads generate lower CPAs than Desktop ads, with the margin widening in favor of mobile after "Mobilegeddon."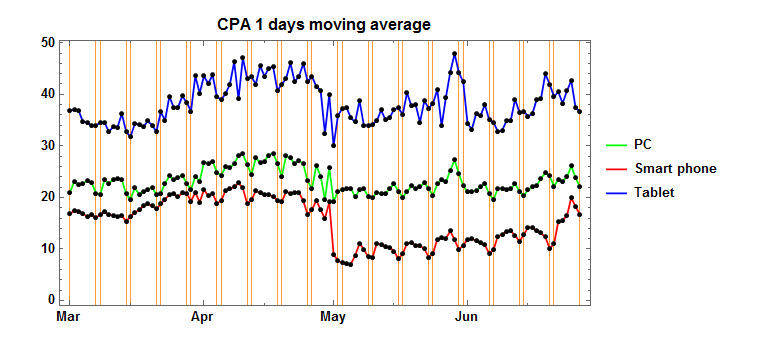 These results were recorded within Acquisio and may not reflect the industry as a whole. If you want to see similar results, you may be interested in trying Acquisio.