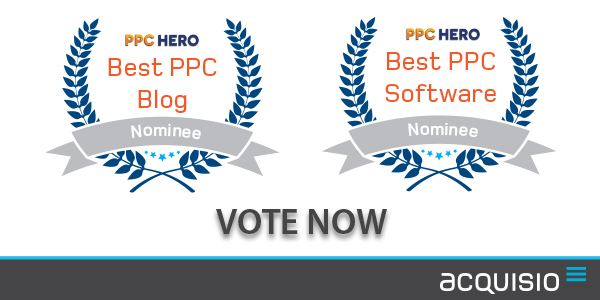 I started running Acquisio's blog about 10 months ago, and one of my primary goals since I took on the role was to the build the blog up until I could proudly describe it as an award-winner.
This week's nomination as Best PPC Blog in PPC Hero's Search Marketing Madness competition is a huge step forward. I worked hard to transform the underappreciated corporate blog into a place for education, thought leadership and growth within the industry and platform, and I'm honored that Hanapin took notice.
I am thrilled – and extremely intimidated – to be nominated alongside my go-to resource, Search Engine Land, but why oh why did I have to be put head to head against them! If you feel like voting for the underdog and helping to make a little blog manager's dream come true, vote for Acquisio for Best PPC Blog.
Acquisio was actually nominated for 2 awards:
Best PPC Blog
and
Best PPC Software
Winning in either of these categories would be a huge support to the growing Acquisio team, so any encouragement is appreciated!
I'd like to thank my friends and partners at Hanapin Marketing for including Acquisio among the list of PPC Giants. Even if we don't win, this nomination made my day. Thank you!