What if your ads didn't run?
You picked the keywords, placed the bids, people searched, but your ads didn't show up? It happens every day. In almost every one of your campaigns. It's documented in a metric called Impression Share (in Google Adwords, no MSN or Yahoo equivalent yet.) Impression Share displays the percentage of the time that your ads were displayed to people who entered search queries which match your keywords (at their specified match types). 100 minus Impression Share is the percentage of the time your ads didn't run when you thought they would. If your campaigns are profitable, the missing impressions are missing profit. Who can afford missing profit these days? Three things stand between you and this extra profit:
Getting your Impression Share metrics.
Knowing what they mean.
Taking the steps necessary to drive Impression Share up.
Finding Impression Share
To get an impression share report most people have to go to the Reports tab in Adwords, build a Campaign report, and edit the fields to include IS, Lost IS (Budget), Lost IS (Rank), and Exact Match IS. You can't access these metrics at the AdGroup level (a shame we'll decry another time).

Impression Share Options in Google Adwords Report Configuration
If you use ClickEquations, you can see Impression Share right in the Campaign reports, or in any report or dashboard built in Excel with ClickEquations Analyst.

Impression Share Metrics in ClickEquations
Understanding Impression Share
There are four Impression Share Metrics. IS, IS Budget, IS Rank, and IS Exact. The first three are relatively straight forward. The last is a bit confusing.
Impression Share = The percentage of the time your ads where shown (for this campaign) out of the times it was eligible to be shown. Eligible means the search matched your keyword, your account was active, the geo-targeting and day-parting and other settings were right, etc.
The next two metrics explain the Impression Share you didn't get. If your Impression Share is 70%, then your Lost Impression Share is 30%. But why didn't your ads run those times? The next two metrics tell you:
Lost IS (Budget) = The percentage of impressions lost due to budget constraints
Lost IS (Rank) = The percentage of impressions lost due to low Ad Rank (cost-per-click bid x Quality Score).
So Impression Share + Lost IS (Budget) + Lost IS (Rank) = 100%. These tell you what you got and what you didn't get, and why. The last one is trickier. For that reason I don't think it gets the attention it deserves. And I'll admit that I didn't understand it until today when I started digging into this topic while doing some analysis work.
Exact Match IS =  The impression share of your campaigns as if your keywords were set to Exact Match. That's the official Google definition – the one that seems generally misunderstood.
So let's try it a different way. Exact Match IS tells you the percentage of the time when your ads were displayed for search queries that exactly match the keywords in your campaign. One minus Exact Match IS is the percentage of the time when someone typed EXACTLY your keywords in as their search query and Google still didn't show them your ad.
Using Impression Share
The IS metrics are great because they tell you things you could otherwise never know about your campaigns. Foremost, they tell what you're getting and what you're missing in terms of impressions – and from there the calculation of missing clicks, conversions, and even revenue/profit is rather simple (see chart 2 below). This is huge. We can finally at least partially answer the perennial question 'How much more could I make from my paid search campaigns?'.
Start With Exact Match IS
Although it somehow seems offered as an afterthought metric, I'd recommend starting by looking at your Exact Match IS. This simplifies the world and if you're buying anything near the right keywords provides a sense of how you're doing in terms of getting shown to the people looking for you.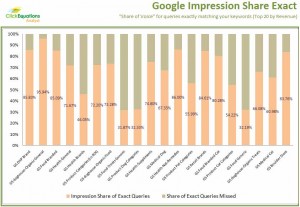 Google Exact Match IS (Chart from ClickEquations Analyst) (Click to enlarge)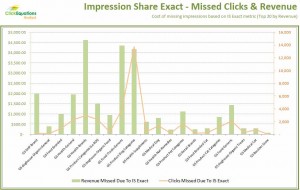 Exact Match IS Graphed As Revenue & Click Opportunity (Click to enlarge)
If your Exact Match IS isn't high (as usual there's not simple way to say what that means, but let's go with 70% or higher) then you really need to work your way down the list and think about your keywords, bids, quality score, ad copy etc. Think about it this way: if Google doesn't think it's worth their while to show your ads to people typing in exactly the keywords you're buying, how can you expect them to think running your ads is worth it for search queries you aren't even directly buying?
Now Look At Impression Share
Let's assume you have good to great Exact Match IS (you worked that out over the last 90 seconds right?). Now look at regular old Impression Share.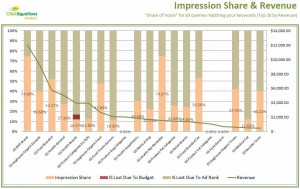 Google Impression Share (Chart from ClickEquations Analyst) (Click to enlarge)
Here you're likely to see something ranging from confusion (some highs and some lows) to a real bloodbath (all lows or at least no highs). The reason these aren't all 98.7%? The only easy answer is if you're lucky enough to have some %'s in the IS Lost Budget column. And I say lucky only because that column is at least definitive. You can spend more and get those impressions. Lost IS (Rank) theoretically explains the rest, but really it doesn't explain very much. Rank means Ad-Rank. Ad-Rank is Bid x Quality Score. Bid can simply be an insane fee you pay despite what something is worth, you probably don't want to 'win' that way. Quality Score is determined by many things, as we've been over. So Impression Share provides an easy way to see something, and know something that is very important to know. But it doesn't provide a magical simple path to improving the problems it helps you find.
End of Part I
To solve our problems we'll have to follow the path through our campaigns. Impression Share forces us, if we look at it hard enough, to understand the roles of both bids and quality score, to think about our match type strategies, to organize our campaigns more effectively, to include the right keywords not just the most keywords, and to broadly see how interconnected the many options really are in a paid search campaign. We'll dig into that work in a follow up post later this week.