Let's talk about a few buzzwords: cross platform attribution with CRM connectors.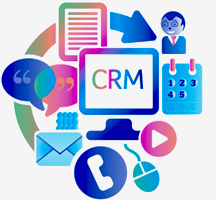 Customer Relationship Management is not just for large industries that require a major management system to organize connections and leads, CRM connectors have become essential for businesses of all sizes to effectively link new clients and those who engaged with ads or collateral with the keywords or mediums that attracted them.
Your business probably has a Customer Relationship Management  System (CRM), such as Salesforce, that captures your sales opportunities and stores emails and lead generated information so you can use that info for remarketing, following up on requests and more. 
The final step to effectively attribute these offline leads and sales to online efforts, across all devices and platforms, requires a simple Acquisio tracking ID, encoded in your company's webpage.
Thanks to Acquisio's automated proprietary encoding, we can link your offline qualified leads, sales opportunities and their associated revenue to the originating keyword, device and more. With this data mapped to our platform, not only can you create highly-detailed reports, you can also act on this valuable information in Campaign Automation.
All this information will allow you to better calculate return on ad spend, so you can build and improve ad campaigns in the future.
CRM Connectors Help Deliver Better Insights for Effective Campaign Automation
Acquisio's CRM integrations can help optimize PPC campaigns and enable you to include offline revenue in your ROAS calculations. Our CRM connectors can map key data points to the keyword that originated the marketing effort. This keyword/data mapping includes such items as:
Leads (online)
Qualified leads (offline)
Sales opportunities and associated revenues (offline)
Sales opportunities (closed won) and associated revenues (offline)
Any additional metric that can be exported to a marketing report and is directly related to a PPC click from an Acquisio-encoded URL.
What this looks like
You likely have a few questions – what does this look like? Is this easy to implement and analyze? What aren't I using this yet?
Here's a quick overview of how the system works, from the inital encoding process to the final importation of data for reporting and analysis.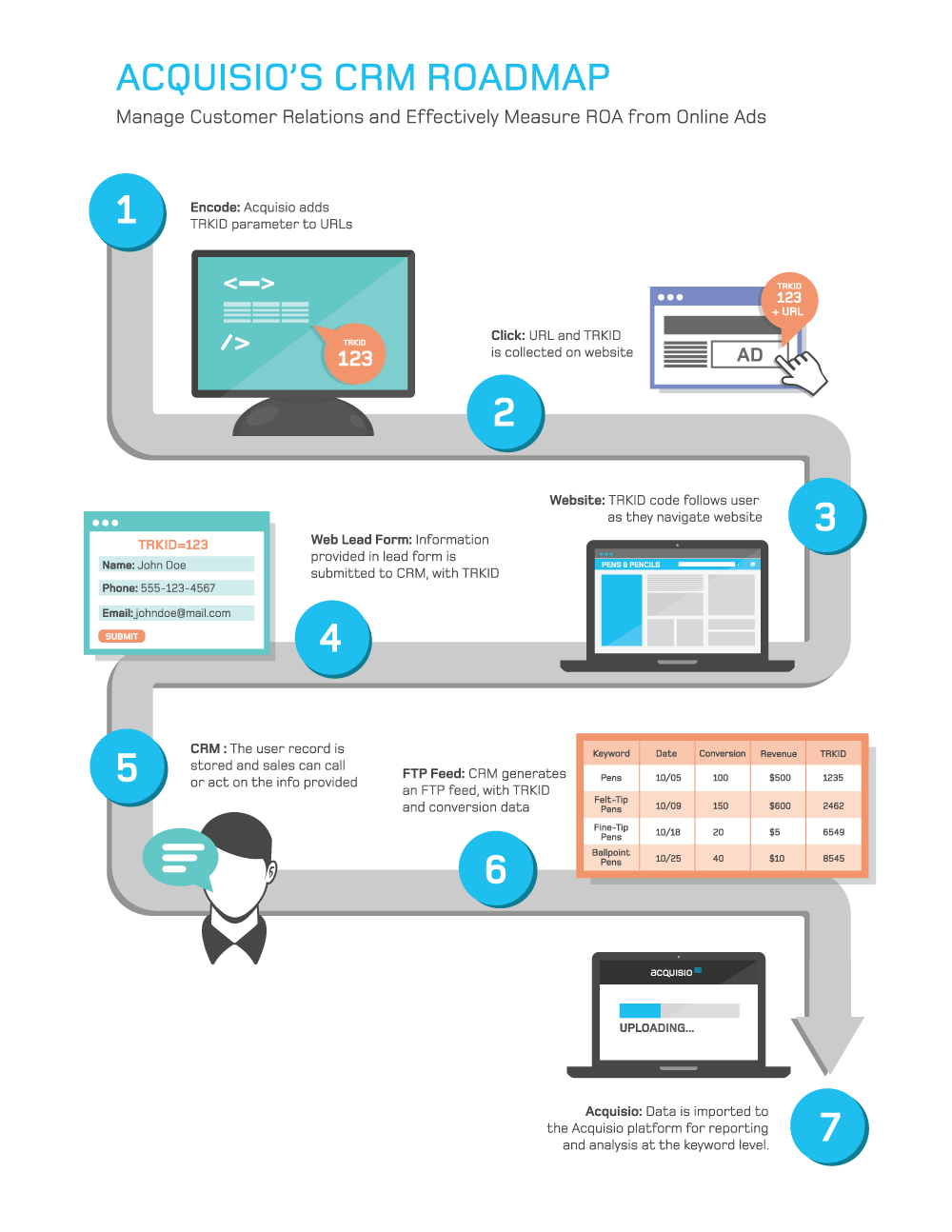 Seems pretty simple, and it is, allowing you to:
Take action on Qualified Leads and Sales Metrics rather than form completions
For example:
You may have a keyword generating a large amount of unqualified leads (keyword 1), while another long tail keyword with less volume of form completions is producing quality leads (keyword2).
If you focus on the form completion metric in campaign automation it might indicate that you should raise your bid on keyword 1  which would be a poor use of your advertising dollars. With a focus on qualified leads and associated revenue you can make better and more informed decisions based on the true value of the each keyword.
Acquisio's CRM connector set up can get you these types of valuable insights.
So what are you waiting for, contact Acquisio for further details.