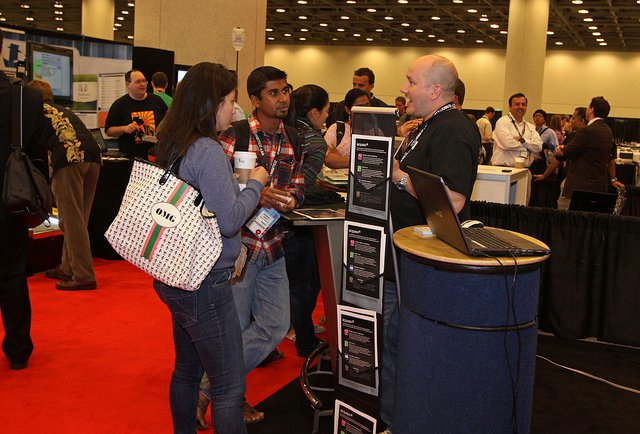 Working the booth…
Trade shows, like Ad:Tech New York 2011 which takes place this week, are excellent venues to meet face to face with other industry professionals. But the main reason to attend a conferences is to meet potential new clients. More often than not, however, the results of biz dev networking at conferences can be a little disappointing. After all, how do you sort through the thousands of faces and find the ones that are the most likely to be receptive to your offering? And how do you ensure that your conference leads turn into real business so that you can keep traveling to all the shows you want to attend? Obviously, one way to do this is to exhibit, but having a booth can be extremely costly. So let's look at how to work a conference on the cheap, as a simple conference attendee. Here are a few tips.
Your Hunting Grounds…
Exhibitor booths: These are normally staffed with sales people, so unless you have something for them, it may be difficult to get business done. However, smaller businesses often have the business owner herself in the booth – giving you a golden opportunity to address their business problem. In a nutshell, if you're trying to find small and medium sized business owners, or the people who run sales or marketing, you have a good chance of finding them. And if you're at a conference like ad:tech, there are hundreds of exhibitors there, and most of them fall in the category The lunch and breakfast table: Make sure you grab lunch with the other attendees. This is an ideal place to introduce yourself and learn about each other. Lots of business gets done over sandwiches and dessert, so try to change tables for dessert and coffee if you can. Networking receptions: One of my friends, Mona Elesseily, sets a goal to meet 20 new people at each one of these receptions – and she usually gets more than 20! Float around the room, make eye contact with people you don't know, smile, introduce yourself, spend time listening to what others do, trade cards, and repeat. These receptions typically do not last very long – only one or two drinks, so don't be shy. Try to make eye contact with people, and don't spend more than 5-10 minutes with one person – unless, of course, you hit the jackpot/motherload of all leads. Parties: Parties are a lot of fun and a great opportunity to build trust and relationships. The only problem is that the longer they last, the more alcohol people consume, and the less likely they are to remember much about who you are and what you do. But they're certainly worth the effort. I have had some of my most important business discussions at parties. So check out the conference parties, but don't stay too late. After a few drinks, people are less likely to remember you, and you're less likely to be on the ball. Dinner: As you meet all these people, surely some will stand out from others, and one of the best ways to get to know them better is to invite them to dinner. Most of them are also looking for an opportunity to go out and have dinner with someone who they could work with, so go ahead and make those invitations. They will give you a chance to strengthen your budding relationship. After all, there's no easier way to build trust with someone than sitting down and breaking bread with them.
Networking at ad:tech
The countdown is on for ad:tech but if you have time, take a look at the exhibitor list and start planning who you want to talk to prior to the show. Then, once you get there, go get 'em! Don't be shy. Reach out to people, shake hands, listen and engage! Everyone's going there for the same reason you are: to meet people, build business relationships and hope for this effort to pay off!