Report Scheduler
Make your report-sending rock with
set-it-and-forget-it simplicity.
Call us obsessive, but we just can't stop whipping up ways to lighten the load of your campaign-reporting responsibilities. So we were thinking: Once you've got all those robust reports ready to roll, you might enjoy a simpler way to get them out to your audiences, too.
Enter: the Acquiso Report Scheduler. We built this fab feature to let you automate the sending of your reports to a pre-determined list of recipients. Simply program the system to automatically send clients a link to an HTML version of their beautifully customized reports.
Just how automated can automated get? Check this out: You can tell the Report Scheduler to send out links on a daily, weekly, or monthly basis, and even specify a no-weekends-please policy, to avoid sending clients work-related messages while they're chilling at the cottage. The URL never expires, so the reports just hang out until your clients are good and ready to review them.
Obsessive people like us are good that way.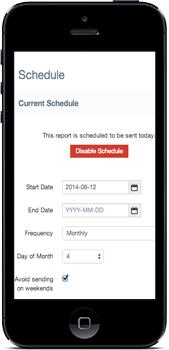 Ready for digital campaign world domination?