Campaign Automation & Alerts
We'll help you head out on the campaign
highway with both hands on the wheel.
What's the best route to take for ultimate campaign success?
Acquisio's come up with a few clever shortcuts that will help you get where you need to go—with smooth sailing all the way.
We give you access to rules that put you in the driver's seat and the tools to steer your bids based on metrics like Cost Per Acquisition (CPA), Return on Ad Spend (ROAS), Quality Score, Target Position, and more. There's even an advanced mode that lets you fully customize the rules you want your campaigns to play by. You can pause and restart to your heart's content, and receive alerts based on specific actions.
Need to hit the campaign trail in a hurry? We've got out-of-the-box rule templates to get you up and running in a flash. Or you can choose to take the scenic route by running in "suggestion mode", which gives you a résumé of suggestions that you can accept or reject. And we just wouldn't be us if we didn't also throw in a full "autopilot mode" aka BBM, that automatically makes reliable adjustments for you.
Who's a better road trip companion than us?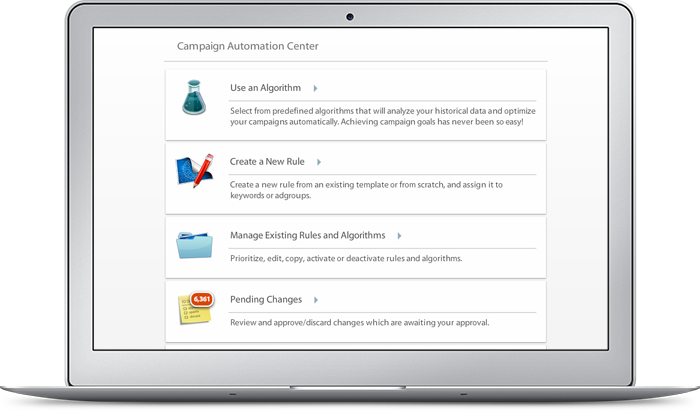 Ready for digital campaign world domination?