Report Center
You'll learn to love reporting. We (almost) promise.
Being able to wrangle all your campaign data in one singular place is great—but you need a comprehensive way to report on it, too.
The Acquisio Report Center will quickly become your new best friend. Like your own personal secretary, this flagship feature of our platform helps you maneuver your data into just about any kind of report you can dream up, in an assortment of customized styles.
Use one-click add functionality to build reports based on top campaigns, top keywords, KPIs, and more, and whip up executive summaries in a snap. While you're at it, why not impress everyone with your nimble use of our many chart formats (line, bar, graph, pie, and donut, to name a few)?
Far from a one-style-fits-all solution, the Report Center offers you two varieties of report: highly customized ones for individual clients, and generic templates that can be shared across multiple accounts. They're all interactive, and built in HTML format. Best of all, they're fully white-labeled for a truly customized feel.
Need to show off your chart-topping campaign results in front of an audience? Presentation Mode lets you turn reports into slick slideshows and even adapts them for tablet format. If your audience is somewhere else, you can easily export reports in PDF or CSV formats.
If you suddenly hear a slicing sound, that's your month-end reporting time being slashed by about 90%.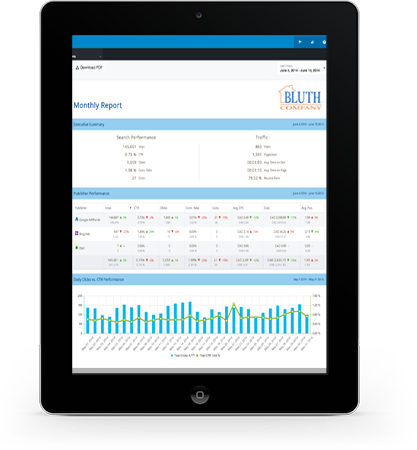 Ready for digital campaign world domination?