Radiance Media
Acquisio's Bid & Budget Management helps well-known insurance company optimize their Google PPC program!
Radiance Media Taking digital marketing beyond just campaign management
Radiance Media offers full service digital marketing management for clients in a variety of industries. Along with services such as web development, SEO optimization and content generation strategies, Radiance offers its clients expert advice and service related to online advertising management. This encompasses not only the setup and management of various online ad programs but also performance analysis and optimization.
The Challenge
Radiance manages the Google Adwords program for a leading, well-known insurance company that was looking to not only decrease cost-per-click but ultimately increase conversions and exposure of their brand.
Radiance Media needed a solution that could garner stellar results for its clients, at the same time reducing the time and effort spent managing PPC campaigns.
The Solution: Acquisio's Bid & Budget Management
Bid & Budget Management, BBM, works to maximize clicks and/or conversions while reducing cost and optimizing the PPC budget. Utilizing a system that is updated every 30 minutes to account for any changes that are happening in the auction throughout the day, the system makes multiple decisions every second to allow marketers to spend their budgets effectively and with more overall control than ever before. Precise budget management means no more exhausting budgets early or overspending. BBM offers incredibly precise management of spend across all campaigns throughout the day while increasing performance.
"In the agency world we are always looking for ways to optimize our client's budget, " said Alex Langlois, President of Radiance Media. "Acquisio's BBM tool has given us a way to ensure monthly spend is met, at the same time maximizing the number of conversions we can deliver. Fantastic product offering!"
The Results
896 ➜ 1,465
Conversions Increased 64%
60% decrease
in Cost per Conversion
As you can see Radiance Quote 2from the above graph, Radiance's client saw a dramatic change when Bid & Budget Management was turned on. You can see the stereotypical "x-graph" pattern that occurs with BBM. When the algorithms started to monitor and adjust the account, in this case on Dec 1st, 2013, there was a noticeable decrease in cost per conversion and a spike in conversions.
Since implementing Bid & Budget Management, the insurance company that Radiance Media manages PPC campaigns for has seen dramatic improvements. Cost per conversion and cost per click have decreased, while at the same time maximizing budget.
The client's ultimate goal of increasing exposure through clicks and conversion has definitely been met. Acquisio's BBM tool has allowed Radiance to deliver exactly what the client needs.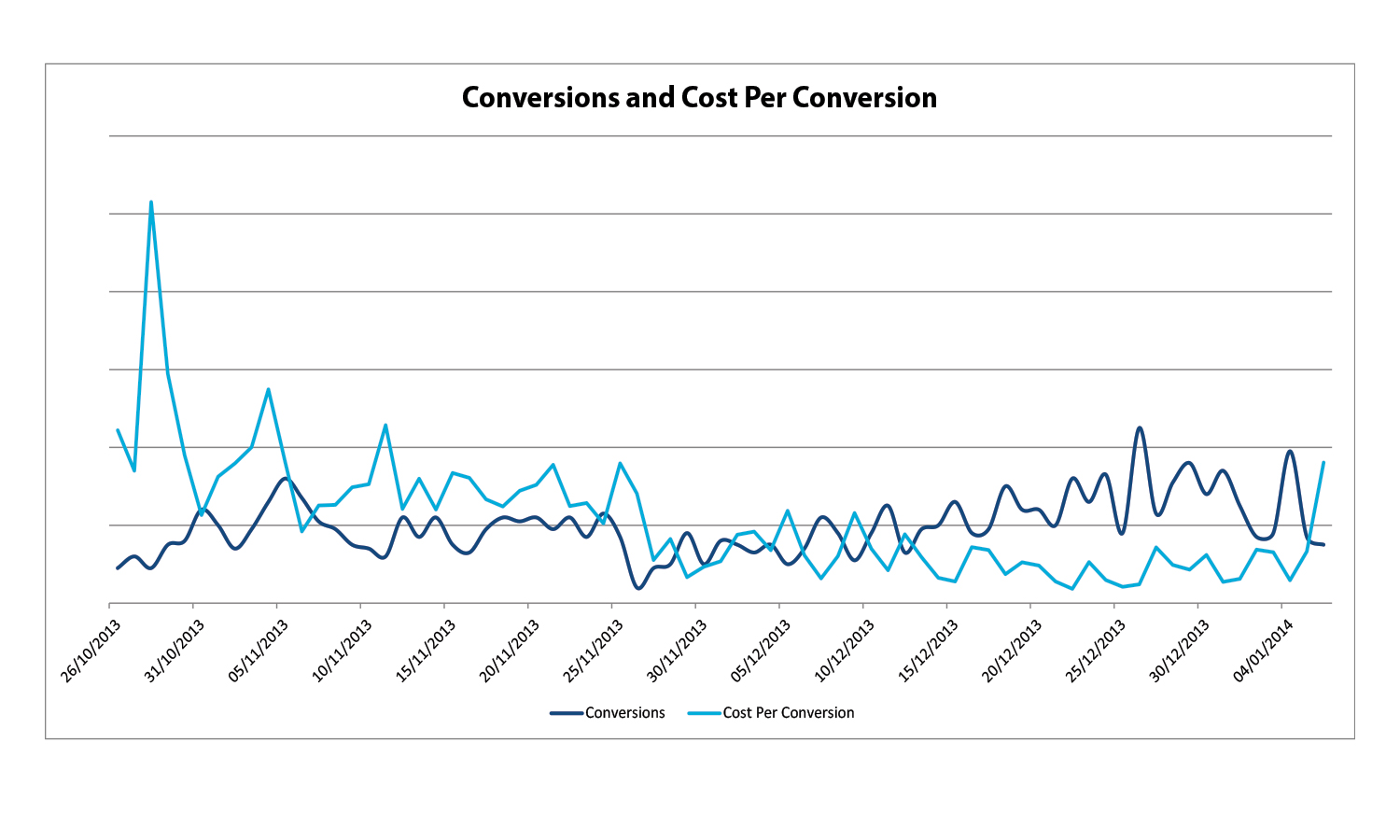 Ready for digital campaign world domination?