Announcing Acquisio Social
Several months ago we asked Acquisio users what feature they would want to make their lives jobs easier. Overwhelmingly, people asked us for a tool that would help them to manage their Facebook campaigns more easily, and allow them to view the results of those campaigns in Acquisio.
Well, the people spoke, and we listened. This month we're releasing Acquisio Social, an amazing new way to improve the efficiency and success of your Facebook campaigns with easy ad creation, advanced A/B testing and analytics tools, and campaign coaching/suggestions.
Simple and efficient Facebook ad creation
One of the issues that many people have with Facebook's Power Editor, is that it takes several minutes to write each ad. If you want to test your headline, ad copy, images, and targeting options, and then test different variations of each of those, you'll have to spend several hours building ads in the Power Editor.
What ends up happening is that most people just end up adding one or two ads, limiting their information about their ads, and limiting their ability to really get to the heart of what makes a Facebook ad successful.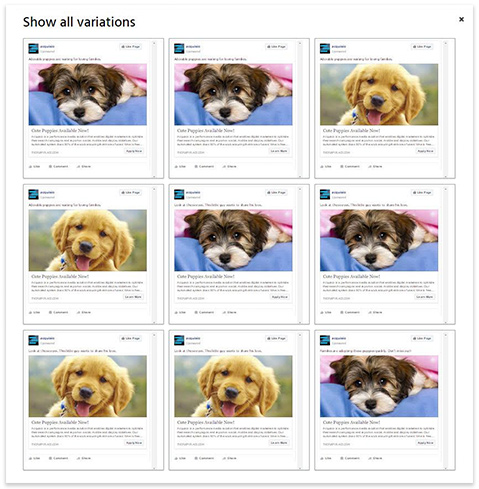 In Acquisio Social, you can test:
Ad Design:
Image    

Post Text

Landing Page (this has no impact on the ad CTR but can really make a difference in terms of cost per conversion)

Headline

Call-to-action
Ad Targeting:
Country
Gender
Placement (where your ads are displayed)
Interests
Age
Custom Audiences
Relationship Status
Purchase Behaviors
Education Level
Once you've done that, you'll now have the ability to learn more about which ads resonate with your target audience, and, in fact, you'll know which aspects of those ads worked best. And you'll get to see all this information in your analytics.
More powerful analytics tools
You can get some stats from your campaigns, but what's really lacking in Facebook's ad platform is the ability to get in-depth information on your campaign performance.
With Acquisio  Social, you'll get access to more extensive analytics tools that allow you to really get down to the brass tacks on what made your ads successful.
You can compare different campaigns to see which ones work best, look at which interest groups are engaging with your ads the most, and track what people who are engaging with your ads are doing once they've clicked.
Get insights that let you take action
This information is all gathered so that you can actually take action and make positive changes to your Facebook campaigns.
While clicks are one thing, the sale is the most important, so you want to know which of the people who clicked on your ads are actually turning into sales. Acquisio Social tracks external websites after clicks, and analyzes leads, sales, and customer acquisitions, going well beyond just looking at the number of people who clicked on or liked a post.
Acquisio Social will also give you campaign coaching and suggestions to show you which ads need your attention. Ads performing poorly? You'll get a notification that you should pause those ones and let the winners take over.
Acquisio Social is available now
Acquisio Social is just one feature of the Acquisio performance marketing platform. Anyone who runs paid campaigns for search, social, and/or display will be able to benefit from seeing all their campaign data all in one place. And Acquisio is the only platform that uses machine learning algorithms to enhance campaigns, improving the number of clicks while reducing cost per click.
To find out how Acquisio can help you get more out of your search, social, and display campaigns, get a free trial now and see the power of Acquisio.
Find out more at www.acquisio.com/social-advertising