If search queries didn't exist, I'd be out of a job. The idea that someone can search for literally anything on the internet and find results still blows my mind decades later – even more impressive is that entire industries have formed around the marketing opportunities available in search platforms. Search engine optimization and pay-per-click advertising were born simply out of the phenomena that enough people were using the internet to find information. And here we are.
Marketers Heart Search Queries
In the marketers' world, the terms people use to search for products and services are akin to gold. We refer to these as keywords or search queries depending on whether you're an organic or paid search marketer.
In the world of organic search the term "keywords" can refer to a single word or can be a long-tail query – essentially a search query of any kind, short or long.
In paid search, marketers bid on keywords, which are often single words, and try to keep an eye on how these are matched against the real search queries in order to make informed decisions about keyword buys, match types, bids and more. Digital marketers live for search queries and so do our customers – let's look at our ongoing relationship with search queries.
Acquisio + Search Queries
It was the year 2009, the year of the search query and Acquisio had just started out as a SaaS company. Back then our team said it was the first time that search queries would take the PPC stage next to keywords. In one of our earliest posts we describe the importance of search query data using a baseball analogy:
Let's start with an assertion: It is not possible or reasonable to competently manage paid search campaigns without full access to search query details. This isn't a nice-to-have. It's required. Managing without query details is like managing a baseball team without being allowed to know what happened at the plate. Suppose you're told who gets on base and who doesn't, but nothing else. How do you rate or make changes to your batting lineup without knowing who strikes out, who hits deep long fly balls miraculously caught on the warning track, or who gets hit by pitches? The analogy may not be perfect, but the point is that choosing to add, delete, change bids, add negatives, not add negatives, or modify match type without knowing queries is a bit of blind-folded juggling.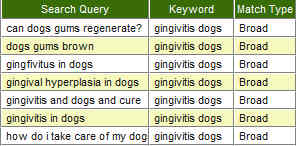 We knew that it wasn't the keywords themselves that were that important, they were just a way to attract real search queries. Back then publishers like Yahoo, MSN (now Bing) and Google AdWords didn't really give this information to PPC marketers. AdWords would only give partial details. The Acquisio platform was one of the few who provided clear and complete search query information back then.
Google has been an interesting conductor in the search stage and search queries have been a hot topic along the way. From the Not Provided update that crushed the hearts and souls of SEOs worldwide, to the scare that AdWords advertisers were losing all search query data, our team has been around for the whole ride. We got talking about all this because we've recently updated search query data in our platform in new ways.
Search Queries in Workbench
I know some people who are going to be really happy about this… You can now retrieve up to two months of AdWords search query data from within Acquisio. Additionally keywords and/or negative keywords can be added directly within the platform!
Search Queries can give you, as a campaign manager or marketer, a wealth of information – and you need to apply that in the right way. With Acquisio, we've made it really easy to intelligently integrate insight from Search Queries into your campaigns.
Let's say that you're running a campaign for mobile application development. You can see in your Search Queries that you're getting traffic and clicks from searches for mobile phone repair. This is not traffic that you want, so you can add it as a negative keyword.
What's more, from the Search Query screen, you can even make a copy of the search term and then modify it, like if you want to change the match type, or you want to change the search term. For example, when you see mobile phone repair, you also think that mobile screen repair might trigger your ads, and you want to add that as a negative keyword too.
Maybe you see a new Search Query that is not in your keyword list, but you want to add it so you can manage the bid on that term, well you're in luck – that's just one of the many things that you can do with Search Queries in Acquisio!
What we've done is to take the Search Query data from AdWords, and made it really easy to use in your day to day workflows. You'll be more effective and your campaigns will be more efficient – it's a win-win all around!
Don't delay, discover Acquisio Search Queries today!
Image Credits
Feature Image: Screenshot by Richard Beck. Taken August 2017 from Google.
Image 1: Screenshot by Alexandre Roubtsov. Taken November 2008.
Image 2: Screenshot by Acquisio. Taken July 2017.