Video advertising has been a fundamental source of marketing since, well, pictures started moving. It started in 1941 with the infamous Bulova ad, and shows no signs of slowing down in spite of varying consumer habits. As long as we humans want to watch others do important work (hint: we always do), advertisers will always be able to find a way to insert advertising.
The Problem with Video (no clicks!)
The problem has been and always will be tracking a return. The goal of videos is to influence a purchase decision, to convince someone to do something, to drive a user to convert. Unfortunately, until Minority Report becomes a reality we can't exactly track users' thoughts. YouTube has tried to assess this with view-through conversion tracking and brand lift studies, but we in digital are addicted to tracking users' click paths. Since video ad viewers rarely actually click on anything, it's been a struggle to assess conversion path using analytics tools in the same way we attribute other digital media.
The Interactive Video Ad Solution
The simplest solution is to give users something they want to click on. I was in the midst of an American Pickers binge (what, you don't like treasure hunting?) and saw a call to action pop up in the midst of a commercial. Bloody brilliant – a simple request for information that didn't require me to leave couch-pose. If Comcast can figure out interactive video advertising, why can't Google?
Enter the latest and shiniest of the shiny new toys for video advertisers: YouTube cards, and with them Shoppable Video.
About Youtube Cards and Shoppable Video
YouTube cards are a triggered overlay advertisers can implement into certain phases of a video. Yes, we already have call-to-action overlays, but those are, to be kind, ugly as sin. YouTube Cards (launched in mid-April) allow you to create different calls to action at different phases of a video along with accompanying creative. The product is currently in open beta – you can read more about cards and how to get them set up here.
Here's a look, thanks to contentsparks.com: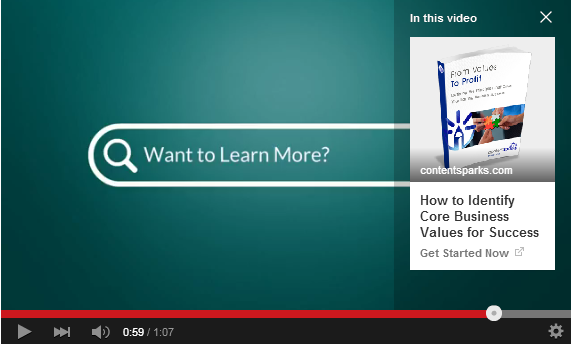 There are a number of different YouTube card types depending on your video goals. I'm most interested in setting up Merchandise Cards, especially pairing them with a feed to craft the newly announced TrueView for Shopping ad units. If you read between the lines there, you'll realize you don't need to connect your feed to create a shoppable YouTube ad. Think of a merchandise card as comparable to Facebook Carousel Ads. You can set it up manually and create a few products, or you can pair it with a feed to make it dynamic.
The Best Options
Manual merchandise cards are likely your best option if you have a few specific products you want to promote, which candidly is when I expect these to work best. For example if you're a fashion retailer launching a new line, merchandise cards are a strong way to integrate product imagery into an introduction or branding video. I'm personally testing this with a fashion client; we're presenting product images alongside a behind-the-scenes video from a photo shoot.
If you want to get Dynamic, feed based TrueView for Shopping takes a bit more of a back end set-up but can rotate or display products & descriptions based on your existing GMC feed. The strongest use case here is, in my mind, dynamic remarketing for YouTube. Countless advertisers have already seen strong results from remarketing on YouTube; by integrating with your product feed, you'll be able to display products users have already seen, increasing the propensity to click and convert.
Shoppable YouTube ads are currently in public beta, and I expect them to fully launch before the end of the summer. If you'd like more information, reach out to your Google rep or leave a question in the comments.
How will you be integrating cards into your video advertising strategy?