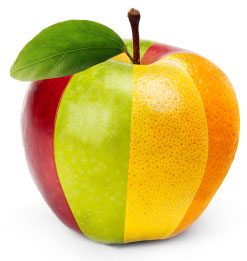 Pretty much every company has a seasonality calendar depicting a forecasted High and Low conversion cycle. Since Google dominates the space, it only makes sense to increase budgets and expand the visibility of top products and service. However, Adwords is not the only option that is available to advertisers. In fact, there are many other platforms that advertisers can leverage to get the most bang for their buck. In this post, I will talk about the importance of creating a diverse strategy that gets advertisers away from the Google Bubble.
Targeting Different Audiences
In today's world, not everyone is searching the traditional way through a search engine. Potential customers are also reading blogs, using social network sites and for those on Mobile devices are downloading Apps and searching for things through browser bars or other apps. With the emergence of all of these other online vehicles, it only opens the door for advertisers to cash in on this additional visibility.
Direct Navigation:
Direct Navigation, or also referred to as "type-in search" is where Internet users navigate to a website directly through the browser address bar, bypassing  search engines altogether. One company that is emerging as a leader in this space is Trellian's Direct Search Network. According to a study from UCLA, "86% of all online searches reach websites via direct navigation using one of the following methods"
Typing in a Domain name and adding a .com
Typing in keywords or phrases followed by a .com
Using a bookmark
Key Benefits:
Lower CPC's as compared to Google, Yahoo/Bing
No competition for the audience to choose
Higher conversion rates as compared to traditional PPC
Access to domain portfolios without the cost
To learn more about Trellian's Direct Search, please visit trellian.com/dsn or download their new Direct Navigation Whitepaper
Social Networking Sites:
Facebook is a "hot topic" these days with regard to their IPO and the recent news that GM is dropping Facebook Ads because "they have little impact on consumers' car purchases".  However, advertisers should not follow in GM's footsteps. GM spent a reportedly $10 Million annually with Facebook and they have different goals and objectives as most other smaller companies. Facebook Ads is an important platform not only to drive traffic and conversions, but also as a LEARNING TOOL for (1) understanding broad and specific interests, (2) social connections and even (3) indirect interests that can be applied to other strategies such as the Google Display Network. Here is an article on how to leverage Facebook Ads for Google Display Strategies.
They KEY to successful Facebook ROI is "deep targeting" and constant testing. Facebook Ads can achieve Ad Fatigue very quickly and advertisers need to constantly push the envelope and test different strategies. Once advertisers get an idea on what is working and not working, then "cut the fat", optimize the winners and keep testing.
LinkedIn Ads:
Yes, that right. LinkedIn Ads. Now, you're probably wondering why spend money on LinkedIn as it's just a Network of Professionals. Well, again like Facebook Ads, it's the deep targeting abilities. In LinkedIn, advertisers can choose GEO, Companies, etc… see screenshot below: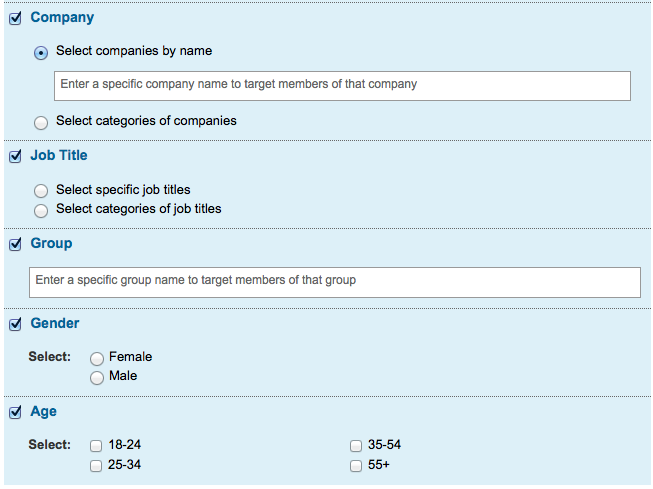 LinkedIn Ads Targeting Abilities
In Conclusion:
If advertisers are gearing up for their "high season," they should not ramp up their spend on Google but rather diversify their budgets across different online vehicles such as Social Networks and Direct Navigation. Consumers are everywhere online these days. Remember the old marketing saying that says, "fish where the fish are." Well, in today's world, the fish are swimming all over the place.