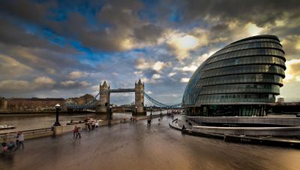 As some of you will already know, Acquisio has just moved into Tech City in London. We are expanding quickly in Europe and so outgrew our previous location in London's West End sooner than we thought. The new UK Acquisio office is perfectly located for both the traditional ad agencies in the West End, as well as the growing community of technology companies and digital agencies in the East End environs of Tech City.
Tech City was established in the UK in November 2010 when Prime Minister David Cameron outlined his vision for it, and the area is fast emerging as one of the world's leading technology centres and focal point for the digital industry. The 'buzz' about Tech City warrants closer inspection because not only is it backed by real activity in the area, it is also indicative of a growing trend on a global level.
In Good Company
This eastwards emigration is now an established trend for technology-focused businesses in London. Google, Intel and Cisco are already active in the area, while Amazon, Vodafone and Barclays have also announced plans to set up technology labs, innovation centres and co-working spaces in Tech City. Yammer, recently acquired by Microsoft, is the latest company to open office space in the area, with Prince Andrew attending the official opening ceremony in his role as Special Representative to the UK Trade & Investment body (UKTI). I'm hoping that he will be free to visit us soon too!!!!
From a few hundred digital companies in 2010, East London's Tech City hub now comprises over 3200 businesses according to the recent Demos Think Tank's Centre for London report. As Benjamin Southworth, Tech City Investment Organisation's Deputy CEO, commented, the move puts us "at the heart of one of the world's most exciting clusters which combines technical expertise, media, culture and the creative industries, providing Acquisio with the physical space it needs to grow its customer base."
International Activities
London is not unique however. Everywhere you look now, countries and cities are endeavouring to create their own 'Tech City' vibe. Traditional lists are of course available already, which you can find here and here. More comprehensive coverage for global, Latin American  and European activities also make interesting reading.
Looking Ahead
The future of technology companies in clusters such as London's Tech City is one that will continue to grow brighter worldwide. It has long been known that taking a tech company public is much easier in the relatively more 'switched on' USA than it is in the more traditional financial markets such as London's LSE. The UK government has just announced plans (at Google's Tech City innovation hub no less) to relax the rules and reporting requirements for companies going public to attract more European and UK companies to do so in the UK. Similar to President Obama's JOBS Act, these changes are unlikely to happen before next year, but the aim is to nurture and retain home-grown technology successes rather than lose them to the NASDAQ or NYSE.
Challenges also lie ahead of course. Major technology companies moving into an entrepreneurial location will undoubtedly create some David vs. Goliath talent wars as people are tempted away from the start-up community to a more corporate world of big salaries and attractive benefits packages. However, the creation, development and celebration of Tech Cities that attract and retain talented people, backed up by bureaucratic initiatives that are designed to help technology companies become established and successful, is going to ensure that Tech Cities thrive throughout the world.