If you haven't already heard, display has officially surpassed search in terms of ad spending. US advertisers are spending more on display than search, according to emarketer, and the reasons are not surprising.
Social, video, programmatic marketplaces and mobile ads are all huge factors in the increase in display spending in 2015.
Advertisers are now spending more on mobile display than mobile search. Banners, rich media, sponsorship, video and facebook newsfeed ads and promoted tweets are fall under the display umbrella, and have been found to be more compelling for mobile audiences that search ads.
Looking at US digital Ad Spending, by Format, 2013-2019, we see that while 2015 is the first year display surpassed search in terms of spend, the gap between the ad formats will continue to widen as advertisers continue to focus on display.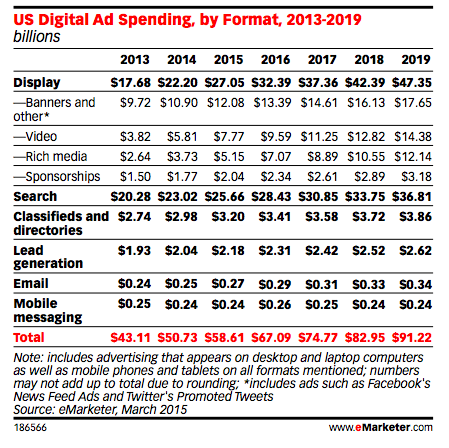 Spend on display is around $1.39 billion more than spend on search, but by 2019, emarketer predicts that US advertisers will spend around $10.54 billion more on display than search.
Looking at this same information in shares rather than ad dollars spent, here's what the divide between display and serach looks like for 2015-2019.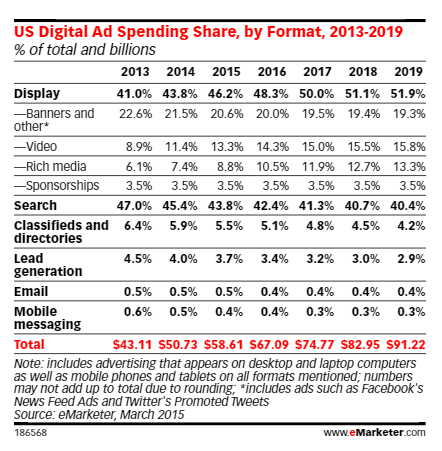 This year search ads account for 43.8% of ad dollars spent in the US and display accounts for 46.2%, and with just 2.4% difference (accounting for $1.38 billion) this seems like a relatively fair split.
In 2018 however, display will account for more than 50% of all ad spending in the US, with search dropping down to 40.4%.
Changes in Search
Don't worry searchers and PPC people! Search isn't going anywhere. US advertisers are still spending on search, and will spend more each year as advertisers spend more on mobile and local search. For all those number people, mobile search is on track to increase by $12.19 billion by 2018, and desktop search is set to increase $4.10 billion in the same timeframe.
So search isn't going anywhere, advertisers are just spending more money on mobile.
Mobile
Mobile is becoming one of advetisers main concerns, but for search ads, there are limitations. The screen is smaller, meaning less ads are visible. Advertisers have less opportunity to engage with searchers at first glance. This limitation may be one of the reasons why many marketers are turning to display ads more often on mobile.
One big draw for display on mobile is in-app ads. The app ecosystem totals 51.1% of the mobile ad market in 2015, and accounts for around 44.7% of all mobile ad spending. With apps really leading the charge for mobile display, it makes sense that display is now eclipsing search.