We are excited to announce this year's Platinum Sponsor for the Acquisio Summit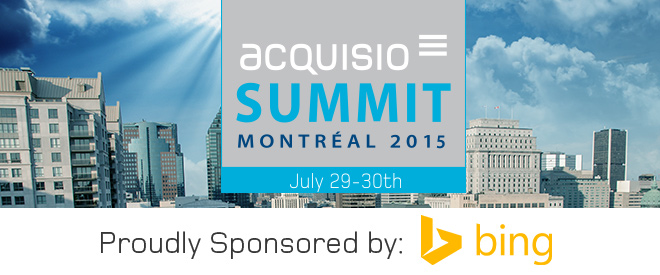 You'll be seeing quite a bit from the team at Bing around the Summit, July 29-30th, 2015, and you can look forward to a keynote speech by one of the representatives early Wednesday morning, right after Marc Poirier makes his big announcements.
For a rough idea of what you'll hear at this summer's event, take a look at the Summit Agenda.
Bing & Acquisio
Microsoft, Bing and Acquisio have a long standing partnership and we are delighted to welcome Bing as the Platinum Sponsor at this summer's highly anticipated digital marketing event.
Don't miss your chance to meet with the representatives from Bing and learn strategic insights from the specialists who are part of one of the largest software companies in the world.
Want to be a sponsor?
The Acquisio Summit is a great opportunity to speak and advertise in front of a diverse crowd of agencies, resellers and advertisers. If you are interested in becoming one of our respected sponsors, see our list of sponsorship opportunities below.
The Platinum Sponsorship may be off the table, but there are lots of other partnership opportunities still available.
Don't Miss Out
The event is coming soon and is only two months away. Now is the time to book your flight and reserve your ticket. Early Bird pricing is still available until June 15th!
Stay tuned for more information, and if you want to know why this Summit is a must-see search marketing event, check out our list of the 5 Awesome Reasons to Attend the Acquisio Summit.