Over the last few weeks, you have been submitting your ideas for the next great Acquisio t-shirt slogan. Our office has been flooded with slogans and we have done a little eye rolling and a lot of laughing – even a little bit of laughing accompanied by the proverbial roll on the floor followed by the distinct lack of bottom that often comes about as a result of excessive frivolity.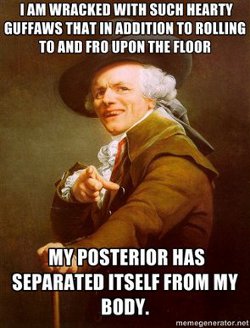 So, believe me when I say that it has not been easy to pick a top 5 for you to vote on. In fact, yesterday we had a meeting that got quite heated as we each held our own when backing our favorites. Nevertheless, cooler heads, as always, have prevailed, and we have reached a consensus. So, it is without further ado that we present to you the top 5 slogans thus far!
Mmm 'Dat Data!
What is Thy Bidding? Acquisio Does my Bidding.
The Devil is in the Data
Show me the Data
Keep Your Data Close & Your Conversions Closer
Here's where you come in. You're going to choose the winner. We leave it in your very capable hands now, and we're relying on you to provide us with your choice for the best t-shirt slogan. The one that gets chosen will be immortalized on one of Acquisio's world-famous and highly sought after t-shirts, and they will also receive airfare and accommodations to attend the first annual Acquisio User Summit – an event that is generating a LOT of buzz lately, by the way.
So, head on over to the Acquisio Facebook page and Like one of these slogans. The one that receives the most Likes will be declared the winner, and the creator will go down in history as a world-renowned slogan creator. Remember, in order for your vote to count, you must first Like the Acquisio Facebook page. Don't delay! Get over there now and choose your favorite. The one you choose may be the one you end up wearing someday, so choose carefully! Voting will be closed on April 20th, so make sure you get over there soon.