Your head is probably spinning with an overload of 2015 predictions and prep tips for the coming year. So why not add some more to your plate.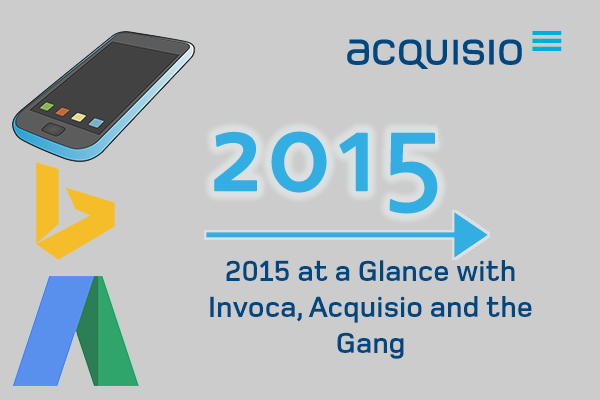 Just joking, sort of.
Today Acquisio's Marc Poirier partnered with Kyle Christensen, VP of Marketing at Invoca, a call tracking vendor, and fellow panelists Mike Nierengarten, President of Obility (an inbound marketing service for B2B clients) and Jessica Snavely, Director of Search Marketing at Vivint (a digital home security system) for a webinar on the 2015 Forecast: Search Marketing Must-Haves.
If you missed it, let's jump to the fun bits.
At the end of the webinar, each speaker was asked to share the number one thing to prioritize or get ready for in 2015. Here's what they each had to say.
Mobile Landing Page Optimization – Marc
Covering this in a previous webinar, Marc mentioned the importance of optimizing mobile landing pages to create an experience that fits the user's expectation, and also one that functions and fits within the mobile context.
Mobile search is predicted to grow 82% said Kyle from Invoca, and next year mobile is poised to overtake search on desktop devices.
This means that digital marketers need to optimize the mobile experience before investing in search ads for mobile.
Mobile Ad Extensions – Jessica
Jessica, who agreed with Marc's point, also mentioned that marketers should get ready for Google to put more focus on mobile ad extensions.
This means focusing on how the ad will appear in the search landscape, and marketers should be quick to respond to functionality changes and modification in how ads are built.
Earlier in the webinar the expert panelists mentioned the extinction of exact match keywords and AdWords website call conversions. These are changes Google released this year which will affect the landscape of 2015.
Mike says some clients have lost faith in Google with changes like forces close variant match and so on.  Which brought him to his main prediction.
Look out for Bing – Mike
Mike is most interested to see how Bing will fair in 2015. He says the deal with Firefox and the potential deal with Safari could help Bing become a real player against Google.
Marc, who has been open about his support for Bing, agreed and said that  Bing is a going to emerge big time in 2015 and 2016. He says Bing owns the desktop experience around the world, and we will soon see a big search box right on the desktop on the OS and that will impact how people search.
Google is still the number one search term in Bing, but Marc feels that people will get fatigued with typing Google into search or their browser and just use Bing instead because it will be right in users faces. If not in 2015, Bing will rise in 206, because people need time to buy the Microsoft computers and devices programmed with Bing as the default search engine.
So there you have it! Get ready for mobile optimization, AdWords changes and Bing on the rise.