Too many marketers imagine SEO and PPC on opposite sides of the playing field, battling it out to generate more traffic and conversions than their opposition, but as outlined in "How PPC Data Can Align Your SEO Strategy" SEO and PPC are truly best when optimized together, to feed into each other's strengths and to cover up each other's weaknesses.
In the webinar with Acquisio and gShift, SEO specialist and gShift CEO, Krista LaRiviere go over some of the biggest trends to prepare for in 2015, in partnership with PPC pro and VP of Marketing at Acquisio, Chris Doran. Together the pair tackle some of the topics generating the most buzz in 2015, including mobile ads, native ads, video ads, keyword changes and automation solutions.
Here's a more detailed look at what the pair discuss:
Mobile has gone mainstream
Search behavior impacts keyword selection
Marketing technology automation is blending and maturing
Native ads for PPC and SEO are a massive opportunity
Video ads and vlogs should be a part of the digital marketing mix
When you look towards 2015 to plan your company's digital marketing strategy, it takes two perspectives – SEO & PPC – to see the full picture. Join these experts as both SEO and PPC strategies take center stage, to offer the best solutions for digital marketers and agencies hoping to expand and optimize their online presence.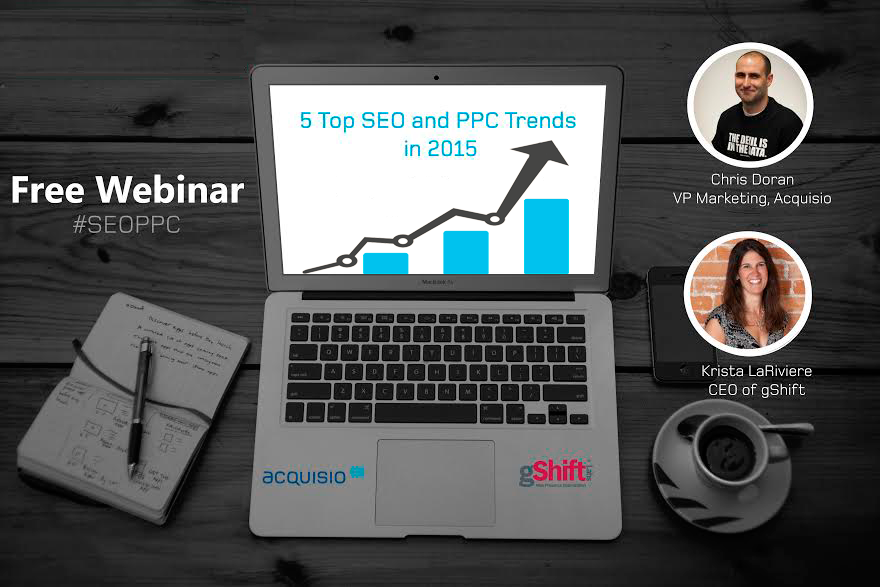 Watch the free webinar here!