It's no secret here at The Trade Desk offices that I'm a big fan of geo-targeting. I've been a geography nerd ever since grade school when I had to label a map with all of the US States and capitals. Fast forward 20 years and geo is by far my favorite variable in optimizing display campaigns.
Whether you're creating custom geos or optimizing by state or province, there are a lot of efficiencies to be had by taking the user's location into consideration when setting up and managing your display campaigns. Here are a few examples and tricks of the trade.
Location, Location, Location – Ad Targeting & Retargeting
Obviously for advertisers with a physical location, geography is going to be a key variable in a user's propensity to convert. When considering the geographical areas to target, be sure you do so in the context of your display buying strategy.
When planning a media buy, I always think of geo targeting and targeted media as having an inverse relationship. The more targeted the media, the less geo-targeting is needed. The less targeted the media, the more geo-targeting is needed.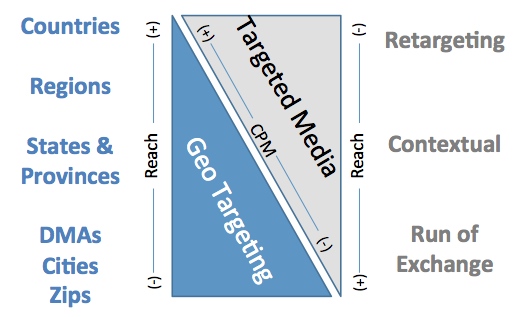 Media Targeting vs Geo-Targeting
Example: We manage a hotel campaign with locations throughout Hawaii. Retargeting is the most targeted of all display buys and we're able to hit their ROI goals regardless of geo. In general, you should never limit the reach of your retargeting campaigns by applying geo restrictions. The travel category buys only perform in Hawaii and on the West Coast of US and Western Canada. It turns out most people on the East Coast in-market for warm weather travel chooses the Caribbean over Hawaii. We're able to get the Run-of-Exchange (ROE) buys to perform by just targeting all of Hawaii at very low CPMs.
So the further a user is from the core market area the more targeted the media buy needs to be. The closer a user is the core market area, the greater the chances of them converting, thus we can afford to buy cheaper less targeted inventory.
This layered approach to geo-targeting allows you to cast a wide net geographically, while also testing a wide variety of placements in the immediate geographic area of the advertiser's location. You have the best of both worlds and can apply the insights from one strategy to another.
This is an example on a macro-level, but you can also apply these concepts at the local level. When advertisers have multiple locations with smaller market areas you might need to go more granular on the geo-targeting.
For example: with a national health and fitness client we do ROE for all of the locations zip codes and a Fitness Category buy at 20 mile radius of the locations. We also bid higher for users within the 10 mile radius vs. those in the 10-20 mile radius. Also, using Dynamic creative optimization to have the specific location inserted in the creative can also help make the ad more relevant to the user.
Think Outside the Geo-Targeting Box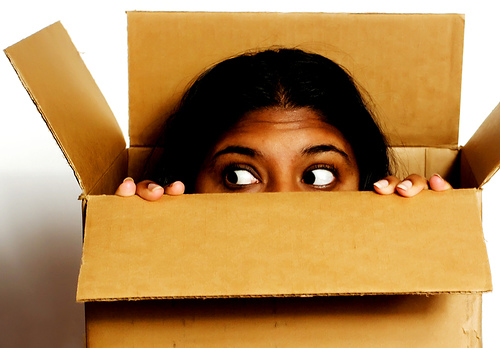 There's more than one way to geo-target a cat, I mean ad…
Even if an advertiser doesn't have a physical location or a defined market area, you'll still want to review the geo report on a regular basis. Due to a variety of factors, performance can vary greatly by geography. In those cases, be sure to optimize your bids accordingly at the State or Province level to start, and then eventually by DMA.
Depending on the advertiser there can also be hidden geographical trends, so I would encourage you to look beyond the conventional geo confines of State/DMA/City, and see if performance varies by factors like:
Rural vs. Urban vs. Suburban
Cold Weather Regions vs. Warm Weather Regions
College Towns vs. Bedroom Communities
Residential Zips vs. Commercial Zips
Red States vs. Blue States
The bottom line is, don't be afraid to experiment with geo-targeting. Discovering and leveraging those kinds of geo-based insights might be the X factor in making a campaign work. Always keep in mind the inverse relationship between targeted media and targeted geos. Doing both to the extreme can limit your reach, so remember to strike that balance. And when in doubt, always err on the side of casting a wider net and then letting the data in the geo report speak for itself.