Ad Sitelinks are a great way to increase overall exposure and gain "real estate" in the sponsored listing sections. Now, Google is taking it even further with their newly released Enhanced Ad Sitelinks which in essence uses existing Text Ads in the campaign that are highly relevant to the Sitelinks and publishes full ads below the main text ad. We all know that relevancy is a good thing regardless of this enhanced sitelinks feature, but it also opens the door for a different perspective on traditional Text Ad Testing practices and procedures. Let's discuss.
According to Google's Inside Adwords Blog, (screenshot) they provide a visual exmaple of how enhanced sitelinks work.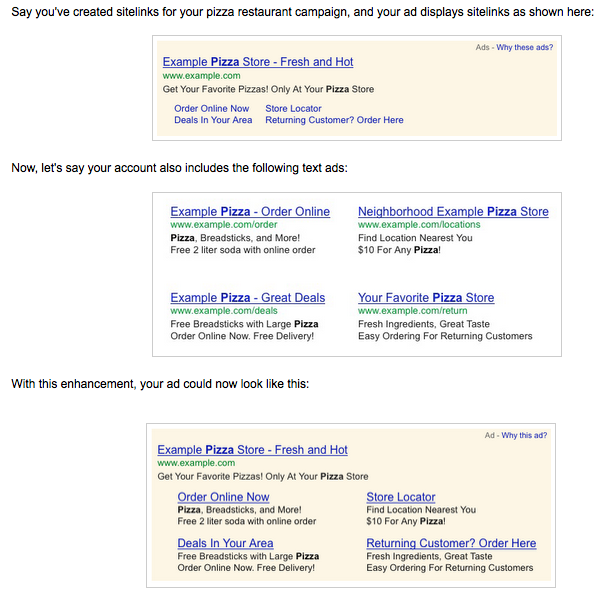 Typical Text Ad Strategy for Different Audiences
Here's an example of a typical Text Ad Strategy that targets different audiences who are either "Price Focus", "Security Focus" or"Quality Focus". Now, audiences differ according to the advertiser, but in most cases, there are many different USP's (Unique Selling Propositions) that cater to specific individuals.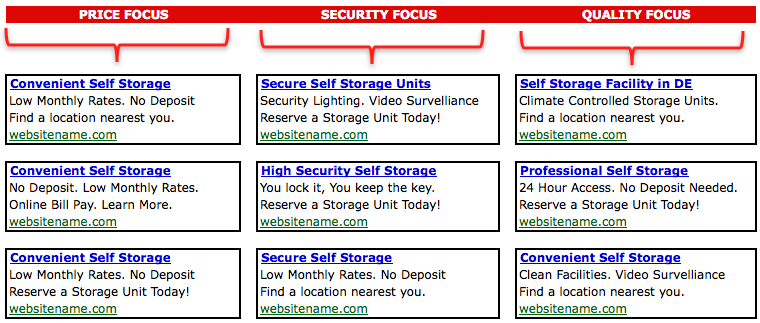 Optimized Text Ad Strategy to Complement Enhanced Sitelinks
The visual above may work for the traditional strategy, but it would not be optimal for Enhanced Sitelinks. The reason is simply because of redundancy with words/phrases, which would not paint a clear picture of the offerings and would confuse the messaging. However, we can utilize this audience segmentation and make a few tweaks.

In Conclusion
Enhanced Sitelinks can be a powerful persuasive tool to increase clicks and conversions. However, it does throw a monkey wrench into the pool of Text Ads that may not be in the 1st (3) positions. In fact, Google's states that in order to be eligible, the Ad with sitelinks must show above Google search results and contain active ads that are highly relevant to the sitelinks in the campaign. So as with everything else we do in PPC, Enhanced Ad Sitelinks leave us having to test, test, test.