We're pleased to announce that Google Adwords Quality Score and First Page Bid metrics are now available in ClickEquations.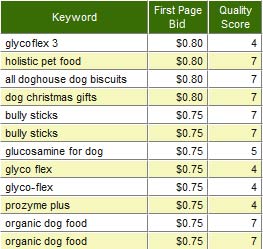 All clients and trial customers can see these metrics in the Keyword Report tab. They're also available in Excel via ClickEquations Analyst. After our recent Quality-Score-palooza it's clear the impact of Quality Score is growing for Adwords Advertisers. We're glad to be the first Paid Search Platform to deliver this important information in our product. High 'First Page Bid' Problems As with many metrics, ClickEquations Analyst makes it possible to turn data into actionable information and save a lot of time. Our new First Page Bid Report template does just that. It reports your Google keywords sorted in descending order of First Page Bid, showing the current bid and amount to increase your MaxCPC to hit the First Page Bid (if that's what you want to do). This makes it easy to spot new high First Page Bids that might occur if your Quality Score drops, if competitors move in, or Google makes algorithm changes.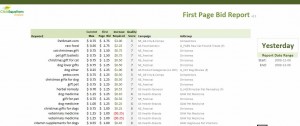 The current Quality Score of the keyword is shown too, so you can decide if you'd like to change the bid or work on the Quality Score. As with all ClickEquations Analyst reports, you can update the data with a single click, or run the report for different accounts or clients. The new report will be provided to ClickEquations customers without charge. Want your own First Page Bid Report? Start a ClickEquations Trial today!