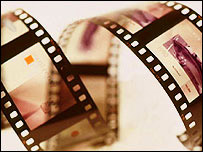 While slurping hot chocolate (Montreal is frikkin' cold!) this past week, I've been trying to write an epic post on how searcher intent is all too often ironically ignored in the search marketing world. I wanted to write big, elegantly placing keyword based advertising in the larger framework of the all encompassing field of marketing. I failed. Maybe it will become a book someday, written by someone else entirely, but it won't be a post today. Instead, I'll take a slim sliver of the concept embedded in my previously lofty goal: negative keywords in PPC – and try to offer something more solid than philosophy.
In PPC advertising, negative keywords are ones which prevent your ad from being triggered. A simple example: say you're running a campaign selling luxury jewelry and you have a phrase-match or broad-match on the word 'engagement rings'. You might want to have the negative keyword "cheap" attached to the campaign so that your ad is never shown when someone searches for "cheap engagement rings". This, in loosely knit PPC campaigns, is as close as many people get to interpreting the searcher intent of their incoming traffic. A great deal can be done on the positive site, but in many cases, a great deal is still left to be done on the negative side. First, let's look at a handful of ways that you can delve deeper into who, exactly, your PPC campaign is attracting.
Find out what you're already paying for: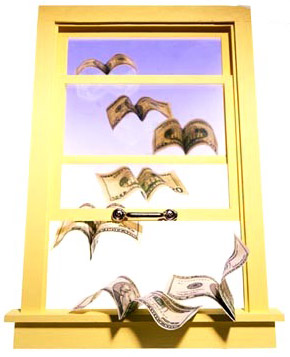 Google recently (okay it was a while ago now, in internet years) released a new feature in its Adwords reports section called a "search query report". The idea here is that Google will simply tell you exactly what a surfer searched for before clicking on your ad, because as we know, when you're broad-matching, it's anybody's guess. As I wrote over at the NVI SEO Blog, the search query report fails pretty miserably to live up to its promise — but a better solution has already been engineered by our friends over at ROI Revolution: the Google Analytics keyword sleuth. In fact, they've directly compared their own tool to the search query report, with not very surprising results. Yes, it requires that you be running Google Analytics, but the insight it provides is truly exceptional. You're guaranteed to go on a negative keyword adding spree when you can see some of the bizarre things you're likely paying for in that expensive, bloated, broad-match campaign your client is so attached to. But it pays to be proactive too, where some good old fashioned human-brain based sleuthing comes in handy. Lets look at some ways you could predict negative keywords, and stamp them out before they cost you one click.
The obvious: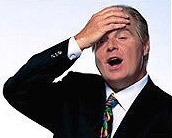 The Google Keyword tool, or other major keyword research tools such as Wordtracker or Keyword discovery — The most obvious, but often ignored method of the bunch: just plug in the shortest-tail version of your primary and secondary words, then scan the lists. Yes, now you're going to have to do some work that requires ack! thinking! and waaaa! reading! You know your products and services, and you now have in front of you a list of the ways that people search for your products and services — scan the list for things you wouldn't want to bid on — where the searcher intent doesn't line up to your offering, don't pay for the click. It's that simple. Let's say you're selling inventory software, and part of your list looks like this:
Inventory software
Inventory management software
Business inventory software
Inventory control software
Inventory software free
Home inventory software
Small business inventory software
Pc inventory software
Manufacturing inventory software
Bar code inventory software
Web based inventory software
Inventory software download
You know your product: does it run on a PC? Is there a free version or trial? Is it applicable to small businesses? Does it integrate with bar codes? Is it web based? Used at home? Downloadable? Almost half of the most popular phrases that a broad match bid on "inventory software" would trigger might not even apply to your offering.
Product search engines with suggest features:
In the world of product marketing you can use any site that categorizes or suggests things for you based on your root keywords to find more potential negative matches. A good example of this is the Google product search. Search for your short-tail words, then scroll to the bottom of the results page, where you'll see suggestions and brand names:

You might want to consider placing a negative match on your competitors brand names (or you might not, up to you! As a lot of you know, there's a bit of a brand-name bidding loophole with broad-match), and the related search field can give some very direct ideas for negative keywords. To expand the lists further just click the "more" link beneath them:

These, and other forms of this style of product research have been spoken about written about extensively by Linda Bustos on Get Elastic, The Ecommerce Blog (get the RSS, trust me) and the SEOmoz Youmoz blog, where she details how E-bay can often be a more comprehensive database for products that share names, over traditional keyword research tools.
Once you have a short list, expand it:
The techniques above will help you get started in creating your own personal ultimate negative keyword list, but don't rely on computers to guess what human searchers might do — go over your basic list and start to expand it logically, with synonyms, different forms of words, and phrases, misspellings, and whatever you can think of. For the concept "cheap" for instance, you could build out a list like this:
bargain
cheap
clearance
close out
close outs
closeout
closeouts
discount
discounted
free
inexpensive
liquidation
odd lots
overstock
remainder
remainders
freebie
complimentary
complementary
complimentry
complementry
offers
gratis
irregular
The above list is actually an amalgamation of two that I found previously published, one by Jennifer Slegg, and one by Andy Komack. Andy has written before on the subject, and has actually authored one of the most informative and useful posts on the topic yet put together, where he simply gives away his negative keyword seed lists. In that post Andy does a great job of showing how different styles of keyword lists can apply to different accounts, or even different parts of the same account. He reels off lists to help you avoid job seekers, avoid knowledge/reference/stats seekers, bargin hunters, price shoppers, DIYers and gives great lists for those selling commercial software, in the manufacturing arenas, in law and in business to business environments. If you're having trouble getting your list started, just read through Andy's post. Keep in mind that when you include a word as a negative, such as "web" Google Adwords will exclude all ads with the word "web", you don't need to add additional negative keywords for "web based", "web enabled" ect. So start adding some negatives – it's a direct, uncomplicated path to ROI.