During a recent training day, I came across a tool I had nearly forgotten existed. It is the Search Funnels conversion reporting data in the AdWords interface. (Located in the "Conversion" page under the "Tools and Analysis" tab.)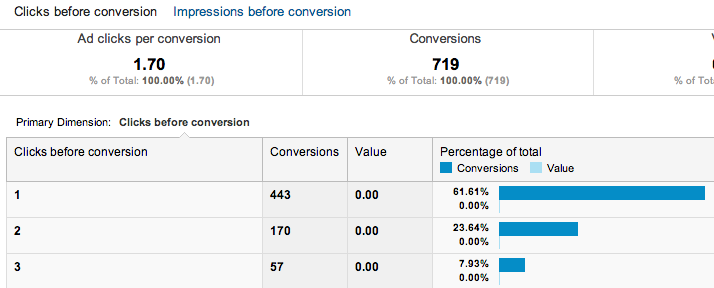 For those that have not explored this tool at all here are the reports you can look at:
Top Conversions (if you have more than one conversion type set up)
Assist Clicks and Conversions
First Click Analysis
Last Click Analysis
Top Paths (Multi-channel Funnels)
Time Lag
Path Lag
A sharp PPC-er will identify a lot of these as things you can see in Analytics. It's true that this information is there, but being in the interface makes it a little easier, at least for me, and puts all the data in one easy place
Why is this data important?
The below image shows you that for this client over 23% of the sales come on the second click. AdWords is going to only report the conversion for the first click, which means that if I go through and start adding negatives and pausing keywords based solely on conversions being reported in the AdWords interface I am going to cut out a lot of people who search, think about it, and then come back.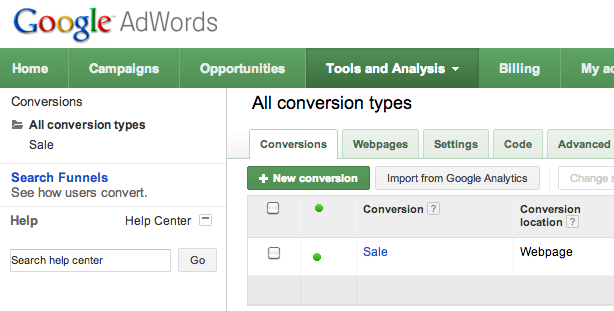 Instead, you need to have some way to attribute sales to last click, first click, and beyond (you can see another 8% of sales come from the 3rd click for this client!)
How do you take advantage of the information?
The first thing to do is dig in and see if there are any keywords (Top Paths=>Query Path) that lead to conversions that you have added as a negative or paused because it wasn't performing (or you thought it wasn't). What you are looking for is keywords in the second, third, or fourth spot in the conversion path since the first one is the query that is going to get credit for the sale.
After that you can look to see if there are any queries that support a conversion and that aren't getting credit that you can add as an exact match keyword and bid up to support overall sales volume.
You can also look into the pattern of the first and last click keywords. Are the first click keywords very specific and the last click keywords very broad? The opposite? When I looked at this for an insurance client I saw that the first click was fairly specific but then the second click had to do with reviews, policy details, or their competition. Then often the third click was a branded term.
For the review sites, I am considering creating a review-centric landing page. My assumption is, if we are getting as many sales after those search queries are taking place as I am seeing, there are a lot more I am not seeing that aren't converting. That means that creating a page and bidding specifically on those terms will allow me to increase conversion rates on shoppers halfway down the funnel.
The most under-utilized tool in the interface
This tool is something I hear about rarely and have used even less. It's also something that in about a half hour of playing around with it has led me to undo a few changes, course correct a few strategies, and seriously consider a new direction for mid funnel users. Give it a try and let me know what action items you walk away with!