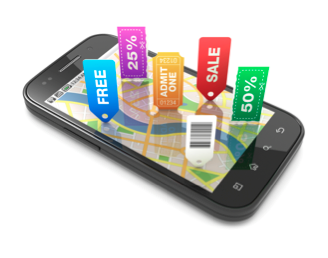 I recently gave a presentation at the Montreal Google Office for a SEMPO CANADA meeting on Mobile Display Advertising. I've outlined the key elements of maximizing your chance of success with prospecting potential leads using mobile as an advertising channel here.
User's behavior = Action
I think we can all agree on this: mobile users are highly engaged with their mobile devices. When establishing a prospecting strategy, we have to keep in mind that we want to initiate an action or an experience with the end user. A simple impression is simply not enough.  Think about special offers or instant rebates to download, sign up for a contest, quick video view, or a sale! Direct response becomes your new best friend.
Mobile = Dedicated Strategy
We have always been managing search and display as two separate channels, but it now time to manage mobile as a separate one as well.  Mobile is not an extension of display any longer and requires its own strategy.

Google Enhanced Campaign = More tools to achieve success with mobile advertising!  
Google has recently made significant changes allowing us to better target user on their mobile devices. You can now increase or decrease bid on mobile and target specific devices or specific carriers.
Should I bid higher or lower on mobile?
Bid higher: when you are running a campaign for a retailer, a location based business, or a direct-response campaign with a downloadable item (coupons, rebate).
No bid adjustment: if you are running a simple brand awareness campaign with no action required from the end-user.
Bid lower: when you are running a display campaign on placements that are not well adapted for mobile.
Obviously, optimization will come in handy to help make sure the decision was right or not. Google now provides you with the actual stats based on devices.
The following image compares two different mobile bid strategies. As you can see, for the search channel, the Conv. Rate tells us to increases our bid, however the display campaign which is running out of specific placements tell us to decreases our bid.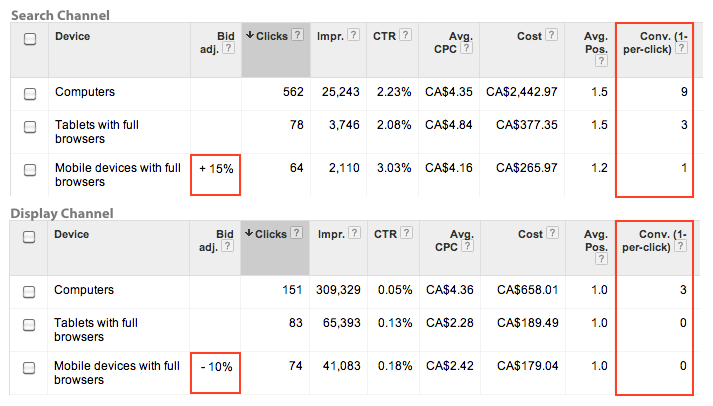 Proximity Bidding: Very Important
Proximity bidding is another very important feature now available with Enhanced Campaigns. You can now increase bid when users are in close proximity to the business.  Remember, only increasing bids will not necessary drive success. Make sure to use the appropriate creative.
Take a look at the following example: the ads and the bid strategy are different depending upon whether or not the user is located within the targeted radius. This example is just a tiny little piece of what you can do with proximity bidding. Built as many custom combinations as you want and make sure to build for success!