So every year since 1990-something, people have been predicting that the following year was going to be the year of mobile. Whether 2012 will turn out to be the year of mobile or not is anyone's guess, but two things that are certain are (1) mobile has definitely gone mainstream and, as a result, (2) it's therefore an ad medium that any serious marketer has to take, well, seriously.
This couldn't be more truer than in the US. Indeed, if you consider some of the numbers release by Nielsen in their State of the Media: Mobile Media Report Q3 2011, there is a clear and present opportunity for advertisers to target mobile user through both mobile search and mobile app ad networks.
So it's not a question of whether you should be investing in mobiles advertising. It's a question of how much you should be investing in mobile (and maybe even whether you should be diverting budgets from other channels).
The Mobile Search Ad Opportunity
According to Nielsen's mobile report, Android and iPhones accounted for over 72% of all smartphones in the US in 2011. And when you look at the top 10 mobile site destinations for both these operating systems, we see that search portals account for 3 of the 10 top destinations — with Google topping the list for each.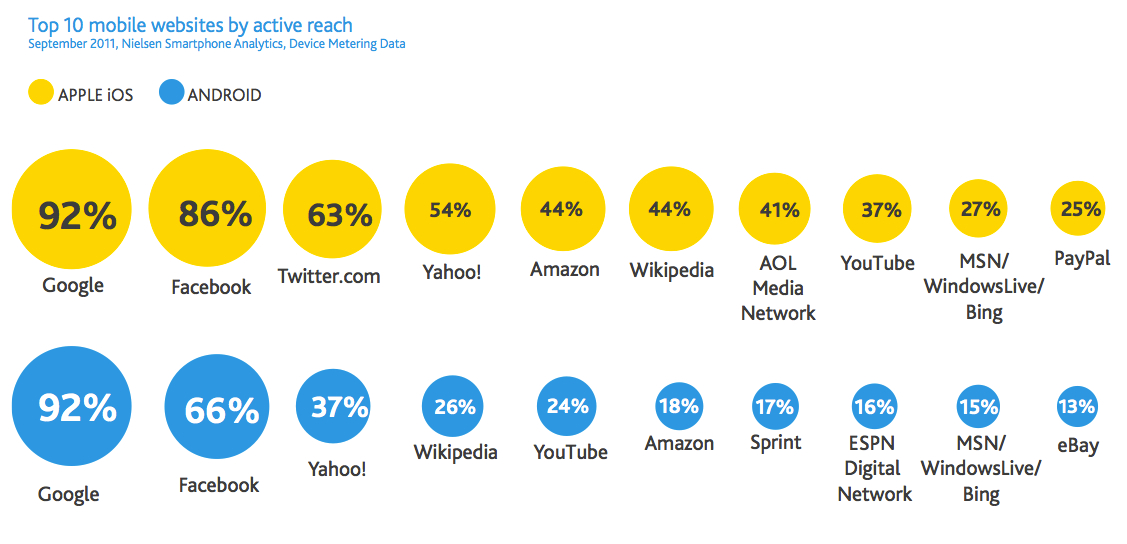 Source: Nielsen's "State of the Media: Mobile Media Report Q3 2011"
If the popularity of mobile search isn't enough, also consider that (according to Nielsen), "49 percent of mobile consumers say they frequently use their smartphones while shopping." That's half of mobile user their phone while they're in a purchasing mindset.
And what do you think they're doing? Well, they're probably looking for reviews and price comparisons. For the price-competitive retailers, that's a significant opportunity to target users who are not only interested in your products, but have already set out down the sales funnel.
The Mobile App Ad Opportunity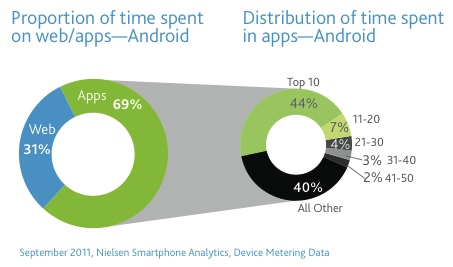 Source: Nielsen's "State of the Media: Mobile Media Report Q3 2011"
As much as search engines dominate the amount of time that US smartphone users spend on the mobile web, those users still spend more time using apps. Nielsen collect data only for Android users, but these mobile users spent more than twice the amount of time using apps than they did on the mobile web.
This demonstrates that marketers have to look beyond mobile search and into running campaigns through networks such as AdMob and Apple iAds. Not only do users spend the most time there, but they're the most engaged. Rather than being transient pageviews that are just looking to click-through to some other page, app users have actively and consciously entered the app experience with express intent on interacting with its content.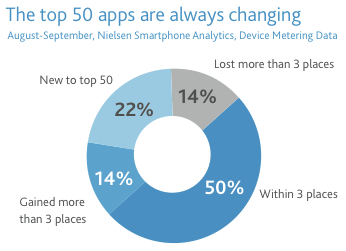 Source: Nielsen's "State of the Media: Mobile Media Report Q3 2011"
And there are also some hints on how to mobile app ad campaigns should be managed. "Of the 69 percent of the time spent on Android applications, users spend 53 percent interacting within in the top 50." So that makes apps in the top 50 the most opportune for marketers. However, part of your ongoing campaign management should be to stay on top of what the top 50 apps are because they are always changing.
Of course, there are also other marketing lessons there. First, marketers can look at how they can use apps to market their products, and second, developers shouldn't be discouraged because the top 50 is always in flux, but we'll just focus on the mobile ad opportunities for now.
Mobile Ad Opportunities: Today and Tomorrow
Because mobile devices go with users everywhere, they're ideal for targeting users who are looking for directions, nearby points-of-sales, or information and price comparisons on products. Beyond that, moreover, the mobile experience is better suited for an app experience, making app-based advertising ideal for engaging users.
The point is that mobile is here to stay, and will likely only continue to grow. So it's imperative that marketers start exploring the different opportunities and channels (if they haven't already) so that they can start understanding what kind of budget they should be allocating, and where they should be focusing their efforts.