NOTE: This is part of a post series. It's available as a single post for easier reading: The Match Type Series. =============================================== The previous post introduced the idea of building a Match Type Keyword Trap. This layering of keyword & match type combinations provides control over which, where, and how queries are attracted, and therefore their cost-per-click. In the simplest case, you'd buy one keyword (say 'Whaazooh') three times in one campaign – once on Exact Match, once on Phrase Match, and once on Broad Match.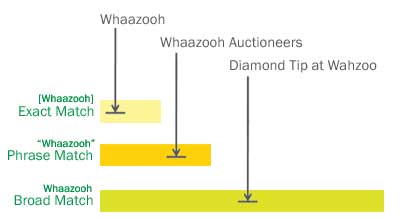 The goal is to catch all queries which are literally 'Whaazooh' with the Exact Match keyword, all queries which are 'Whaazooh' plus some word(s) before or after it with the Phrase Match, and all other related queries with the Broad Match. Why? Because in almost every case where many different queries exist for a single word or topic, some of those queries are very valuable, some are mildly valuable, and many are not valuable (or at least not valuable enough). We want to segregate these queries by their value to us so we can pay highly for the high value ones and less so for those less valuable. In the simple cases (I have to keep saying that because not all cases are simple, there are many complex variants of this) we'll do better by trapping the best ones with the most specific Match Types (Exact if possible or Phrase if not) and using Broad Match to harvest winners and losers which are acted upon accordingly. Winners are promoted (to Phrase Match or Exact Match). Losers are demoted via lower bids or even made into negative keywords. We do better not because of the place they're trapped, but because by segregating them we control the bid (as well as the text-ad, landing page, etc.) Forcing The Stack Buying the same keyword three times at different match types does not itself bait the trap. If the same word is purchased at both Exact and Broad, and has the same bid and earns the same quality score, chances are good a related query with be matched sometimes to one and other times to the other. To force the trap to work you have to stack the bids – higher for the Exact Match versions and sequentially lower for the Phrase and Broad Match versions. This gives the Exact Match keyword multiple reasons to attract and win the Exact Match queries; it is a better match and it is bid higher (which is good in itself and factors into quality score). When you do this, leave enough room between the various bids. The Average CPC the engines report are averages, so expect a range of bids in each and leave enough room so the ranges don't overlap.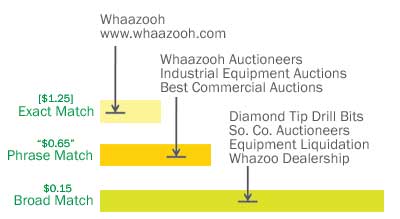 In this example, we bid higher for several terms that have proven great performers, setting them on Exact Match and bidding $1.25. Several others that are good performers and perhaps come in some variations are set at Phrase Match for $0.65. A larger collection of phrases and concepts are bid Broad Match at $0.15. Over time we shift, add, put in more negatives, and generally take control over how we pay for and catch queries. Equalizing Return How do you know if it's working? In theory you'll normalize the ROI (or ROAS if you must) for your Exact, Phrase, and Broad Match keywords. In other words, you'll raise bids for your Exact Match keywords to maximize profits. You'll set accordingly lower bids on Phrase and Broad Match keywords until they produce the same return as the Exact Match does – so their lower conversion rates and ROI are compensated for with proportionally lower bids. They get the bid they deserve. To Be Continued Again there are many exceptions and details left out of the above descriptions for the sake of time and length, but I'll move into examples in future posts which should illuminate the concept. In the meantime, if you have any questions about this leave a comment and I'll elaborate.