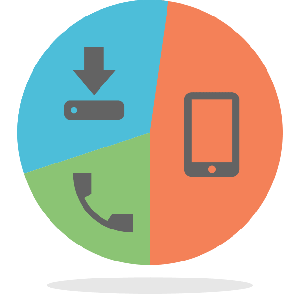 Image credit: google
Without a doubt, one of the most-talked about subjects in the SEM sector these days is Google's launch of Enhanced Campaigns. This launch represents a fundamental shift in the structure of PPC campaigns, and as marketers and agencies, we owe it to ourselves and our clients to be ahead of the curve in adapting to the changes coming to AdWords. In this post, I'll break down some of the major changes between so-called "legacy campaigns" and new Enhanced campaigns.
Quite simply, the move towards Enhanced campaigns symbolizes the fact that we now live in a multi-screen, multi-channel world. Indeed, with the growth of smartphones and tablets, we now have the opportunity to not only target our audience, but to target them at the right time and at the right place. While this sounds great in theory, it creates a loss of control for marketers.
In an Enhanced campaign, we're no longer able to specifically target users by device (say desktop vs. mobile vs. tablet, for example). Instead, the campaigns allow us to target all devices at once, but lets us optimize our bids by device with bid multipliers for mobile. Say, for example, your desktop traffic performs better than your mobile traffic. You'd set a base CPC bid (let's say $1.00), and then set a bid multiplier for mobile.
Because your analytics data shows that mobile traffic doesn't perform as well as desktop in this particular campaign, you might set a bid multiplier of -35%… Meaning your mobile CPC bid would effectively be $.65. To "turn off" mobile, you'd need to set a bid multiplier of at least -100%. So what does this mean?
1. You need to mobilize
Mobile is the future, and by not being able to really turn off mobile traffic from your AdWords campaigns, it's essential that you have a mobile strategy. Because you can't target by device any longer, I'd strongly suggest moving toowards a responsive site design.
2. You can no longer treat adCenter campaigns as mirrors of your AdWords campaigns
For the time being, advertisers who are using adCenter can still precisely control their device targeting at the campaign level. This means that you should continue to optimize your campaigns precisely, and shouldn't just mirror over your Google campaigns for adCenter. You'll need to treat them as separate entities (which is a best practice anyway!)
3. Expect some changes in CPCs and ROI
As advertisers adjust to the new system, there will definitely be some wonkiness in the competitive landscape (does anyone remember the impact of Yahoo! Panama going live years ago?). Realize that CPCs will likely go up as advertisers adjust, and plan accordingly. You may want to set your base CPC bids a bit lower than you're used to so that you can get a feel for how the ROI actually shakes out in the new environment.
While my strong focus in this blog has been the impact on device targeting, there are many other changes coming with Enhanced campaigns. While you may sense somewhat of a negative tone in this post due to the loss of control (what can I say, I'm a control freak!), I can say that there are some positive changes too (such as the ability to really promote app downloads, for example).
Regardless of your view on Enhanced campaigns, the fact of the matter is that they're here – And while all campaigns will become Enhanced in the coming months, it'd be a wise move to start preparing for the changes now.