Sunday morning seems a good time to practice what we preach. Earlier today I was poking around in our own AdWords account, doing a little prep work for my Tuesday presentation on Quality Score. I created some new ClickEquations Analyst templates that analyze the CTR components of Quality Score – we'll talk about these sometime in the future. One of the elements I was looking at was the CTR of search campaigns. In particular, the idea struck me to compare the impression volume with the CTR to try and identify the weighted impact on Quality Score of letting low performing CTR keywords run. In the course of my examination, it became clear that two of our own campaigns have the devilish combination of low Quality Score, low CTR, and high impression counts. Time for a little further investigation. One of the things I found was that an experimental ad group built to play around with keywords concerning Match Type was doing particularly poorly. More specifically the broad match keyword 'match type' had huge impression count and a horrible click-through-rate. That's when I found it. Look at this search query report for the keyword 'match type'.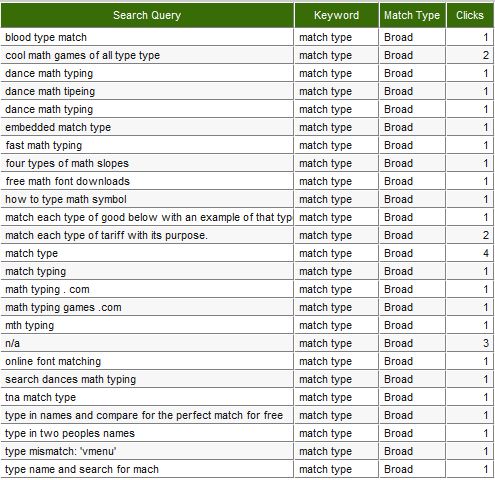 Google is doing a pretty poor job of matching the keyword 'match type'. And we've been paying for it, click by click.

The assumption that people typing 'math' actually meant 'match' is particularly strange. Or do they think I meant to buy the word 'Math Type' and they're correcting my typo? And why are the people who are doing those searches clicking on this text ad anyway? –> In any case, the only search query worth having from the whole list is 'match type' itself. Normally that would have been caught in the exact match version, but since this was an experiment I had been running the broad match all alone. Clearly that was a mistake. Given these results, I added the exact match version, and paused the broad match. Looks like both query mining and building match type keyword traps really are good ideas. And the word 'match type' is not a great example of the effective execution or use of broad match in AdWords. Want to learn a ton about Quality Score? Attend my session on Tuesday at the AdWords Advantage Online Summit. Early Bird Discount Extended – You Can Still SAVE 40%! Learn How to Fast-track Your AdWords Profits – 14 educational sessions led by the Pay Per Click experts on March 9-30, 2010. My session will cover AdWords Quality Score in High Resolution Mar. 9 @ 1 PM PST. Each interactive 1 hr class will be held conveniently online during the 3-week event starting next week. The AAOS will bring together hundreds of Pay Per Click Advertisers who will learn unbiased AdWords techniques from experts who have run multi-million dollar Google AdWords campaigns. Register Now & Save 40%, Only A Few Seats Left!