Originally posted May 4th, 2012 by Andrew Goodman on his blog.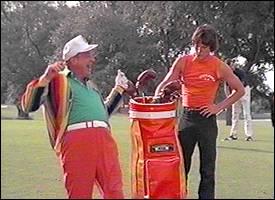 Rock stars need to dance better than this or they'll get no respect, no respect at all.
For years, SEO companies and "rock stars" have whined that they don't get the respect they deserve.
That's been unsurprising, given that you trip over seven unethical SEO firms and two "cheesy borderline" SEO firms out of every group of ten. If only 10% of SEO firms are really "agencies" that adhere to some professional standards (including a degree of transparency, contemporary technology & practices, etc.), how can clients figure out what to do and who to hire?
It's been a little better on the PPC side, but here too, it's pretty easy to set up a "facsimile of the real agencies," hoover leads in the door, and start billing for substandard work done by a mostly nonexistent organization. The tipoff is the About Us pages that launch right into an unverifiable jumble of information pulled from other agencies' websites, never identifying the actual principals of the firm. And sorry, if you're out on the highway in the desert somewhere in unit #4518 (a self-storage unit maybe?), if I'm a client you're going to have to do more to convince me to sign up.
To briefly touch on the agency side of things and how it's gotten better for clients… I do think it has, because somehow word of mouth is getting better and buyers are getting smarter. If they are hiring a large agency, they do that because of the safety factor. Probably you pay more for a bit less specialization and get less of some things, but most buyers don't have time or enough luck to make it through the mysterious effort of somehow striking gold with a lone wolf practitioner who turns out to be up to the job in all facets.
In the middle are interactive agencies or SEM-focused agencies with known track records (like Page Zero Media, to toot our own horn here). Buyers know that there are actually just a handful of leaders running SEM-focused organizations with any depth, and that you can actually meet with them and talk with them at the major industry events (SES, SMX, etc., along with emerging dark horse events like Heroconf and the Acquisio User Summit – on the latter, get a load of who's keynoting). Anyone who gets to know "PZ" team members like myself, Mona Elesseily, Dean Towers, Scott Perry, Dave Weber, etc., will know that many of us have been at this for 11 years now, and we're training the next generation of obsessives as campaign complexity continues to challenge clients who would flounder if they tried to run them on their own. We've been around this long, and we're going to be around next year and the year after that. For execution help, advice, audience building, and networking opportunities, we also partner with some of the most important entities in the industry; longstanding relationships with companies like Google, conferences like SES Toronto, companies like American Express OPEN, and vendors like Acquisio, matter to us and to our clients.
To look around the landscape (this post isn't just about self-promotion but about B2B consumer protection, in the end), I've been more and more impressed by the trend represented by (for example) Blueglass, an interactive agency that was the product of several established groups coming together, plus the recruitment of some top talent that might have been considered "lone wolves" in their earlier work. It's just easier for clients if they can get more of that in the same place, without worrying whether Rock Star X has a full plate for the next couple of months. In short, we're seeing the emergence of an agency landscape out of what used to be a bit of a mess. That leads to more professionalism, and more safety and long-term execution for quality clients.
There are quite a few others worth a mention, of course. And they don't have to be huge. Look at Marty Weintraub's group at AIMClear – they're rockin' it.
Let's turn to the tool side.
There are a lot of disparate tools, platforms, and dashboards out there that many agencies and in-house practitioners alike use to automate, report, research, and generally excel. Despite all the wondrous innovation, though, the problem for the firm (let's say it's an agency) is chaos. It takes time and money to be constantly researching and testing out new tools from new vendors.
I mentioned this when writing three years ago about the bid management space. Although new companies have certainly emerged in marketing automation, it's probably fair to say that a few names have really solidified their grip on different market segments. As two fairly close competitors in the past, it was probably healthy and good for customers that Acquisio acquired (haha, Acquisio made an acquisition) ClickEquations.
One thing I love about Acquisio is that I don't have to jump out into another tool evaluation mode when my agency has new needs. In addition to core PPC reporting and automation features, they integrate third-party data (for example, through partnerships with The Trade Desk and GShift Labs), Facebook ads, and increasingly, more sophisticated needs like multi-channel attribution. There's a huge learning curve with some of this, but the key is that the learning is within the same consistent environment and the service and support is coming from one team, not ten. Our team can expect to be using that environment next quarter, and the quarter after that. In that regard, it's not so dissimilar from using tools from Google itself. You don't have to be constantly relearning features and environments, and the fact that you're not paying for ten vendors and administering multiple logins is a huge win as well.
That brings us to the recent home run for SEOmoz, long considered the gold standard in SEO tools. $18 million in high profile venture funding is a validation for their role in the industry and no doubt for their sound finances. But more than that, it provides incontrovertible proof that they are one of the few players with Momentum. For many buyers, including myself, the likelihood of shopping around and trying a whole bunch of competing tools goes down when I hear news like this. $18 million isn't something SEOmoz needs to run its operation, but it's a powerful signal that they intend to be around for awhile — indeed, that they will be something of a 'hub' that builds out more interesting functionality that transcends 'mere SEO' (hence their tinkering around with a name change to just 'Moz'). And to take it to a personal level, once again… this is all happening because you and I know who Rand Fishkin is, know he's always been a thought leader and a tireless builder of this product. Maybe you even know Gillian, or other members of his family. It matters to me that a vendor has the courage to stand up and be visible rather than toiling away in a self-storage unit by the highway in the desert with a generic 'About' page. I think it probably matters to you, too.
I first learned about Momentum (a book subtitled "How Companies Become Unstoppable Forces") from Noel McMichael, who co-founded Marketleap, one of the first small SEM agencies that managed to exit with a decent (if far too low by current standards) acquisition price. Noel told me to read Momentum. He said it had been the most influential book in the building of his company. Rather than behave as lone wolves who are good at some things, Marketleap built a cohesive and fervent (if relatively small) agency to signal to clients that if they hired Marketleap, they were getting on board with a group that self-identified as a professional organization that would take a back seat to no one in terms of execution.
Momentum means everything to vendor choices. Companies from Microsoft to Salesforce have created empires based on some of the most visceral of B2B buyer instincts: no one wants to waste time adopting the solution that won't be the "standard" next year, and the year after that. Buyers want consistent technology, not just the latest technology. They want support and service, and organizations that can support learning and networking opportunities.
Many clients are still outsmarting themselves by hiring flaky, unqualified firms in order to save a dollar or two, but it's getting better. Smart buyers know that the landscape is not as chaotic as it looks. There are a relatively small number of reputable agencies and software platforms to pick from. Those are the ones you're going to be hearing from again and again.