Our February Release introduced new campaign editing features, so in this post we'll take a close look at these capabilities. These features appear under the new Manager tab, and so we felt compelled to call the editor ClickEquations Manager. Simply described, it's an 'Adwords Editor like' way to manipulate your Google and MSN campaigns.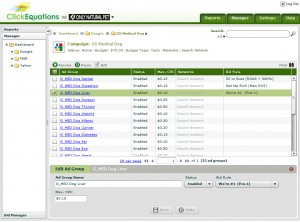 Like AE it's based on a three-pane design, with left-side navigation, right side data display, and an 'editing tray' at the bottom of the screen. (Click Image To Enlarge) Navigation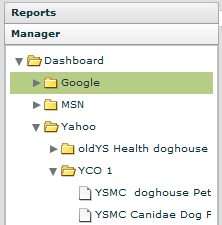 There are three ways to navigate your accounts:
Hierarchical Controller. Use the hierarchical controller to select any engine, campaign, or ad group. You can instantly switch back and forth to any location in your accounts.
Click-Dive the lists. Select an engine and get a list of campaigns, click a campaign name to see the ad groups, click any ad group to see it's keywords and text-ads.
Breadcrumb Navigator. You can use the breadcrumbs to navigate back, click the [+] signs to see a pull down of all options, or the > to dive another level deeper.

Data Display At each level (Engine, Campaign, Ad Group) the display area presents a list items and the related data fields. You can sort and re-arrange the fields freely.

You can also use the filter option to select only those items that meet any specific criteria.

Icons above the items make it easy to pause, resume, edit, or add items. Both edit and add open the editing tray at the bottom of the screen. Editing Tray The editing tray presents all available fields for whatever element you've selected. You can then enter or modify these fields, and use the Save button to submit changes to the selected engine in real time.

A pop-up message will confirm that changes have been accepted by the selected search engine and are now live in your account.
Manager Benefits Full three-engine editing is a core requirement and basic feature of any paid search management tool. The ClickEquations Manager makes it fast and easy to update or expand your campaigns.
In ClickEquations it lives along side of our rich reporting interface, powerful bid management, and ClickEquations Analyst Excel Plug-in – each of which we'll feature in a future post in this series.
Of course, the best way to really understand the benefits is to try it for yourself – sign up for a free 30 day trial of ClickEquations today.