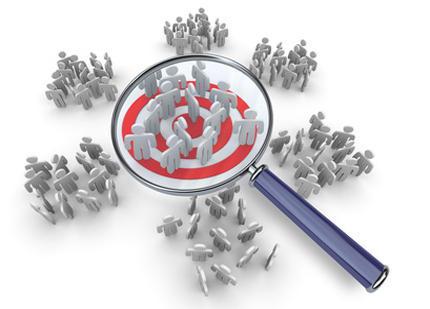 Retargeting…
Most of us by now have heard the expression, "Retargeting is the lowest hanging fruit in online advertising." It's true, it's a highly effective strategy and every advertiser should at least have a basic retargeting campaign on their media plan. But sometimes retargeting isn't enough. Just like Search is limited by the number of people searching for an advertiser's keywords, retargeting is limited to the number of people going to an advertiser's site. So what happens when you run out of low hanging fruit? You get a ladder, that's what. If we think of retargeting (and Search) occurring towards the bottom of the sales funnel, there are a lot of other opportunities to be had by widening the sales funnel at the top. This is where the other forms of display buying come into play. While there are four core strategies to display, there are lots of other sub-strategies and countless variations and combinations of each.
Since this is my first blog post, I thought I would start by giving an overview of the basics and we can dive into each with more detail for future posts. I've also given you a Yelp style pricing guide ($ – $$$$) to give you a better sense of the relative CPMs for each strategy. As you move down the pyramid, the strategies become less targeted, but the CPM prices also decrease.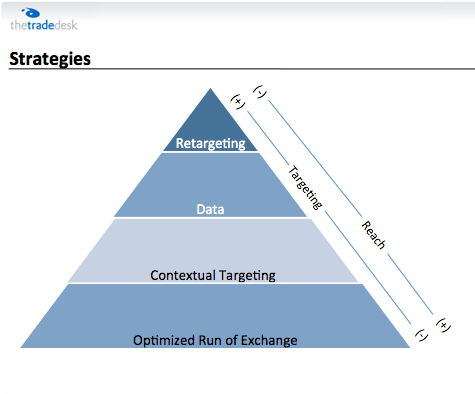 Display Ad Strategy Pyramid
Advanced Retargeting – $$$
When an advertiser has a substantial volume of traffic to retarget, you may want to consider employing more advanced retargeting techniques, such as:
Dynamic Creative Optimization – Dynamically insert relevant products, prices, and messaging into the creative based on the user's activity on the site.
Audience Segmentation – Segment your customers into different audiences based on members vs. non-members, home page vs. shopping cart abandoners, etc. Bid more for the users who have a higher propensity to convert.
Recency Bidding – Optimize your bids based on when the user visited the site. Users who were on your site an hour ago are generally more valuable than those that were on your site 15 days ago.
Retargeting is a great way to continue to engage with the users who have already been to your site. The next three strategies are for prospecting new customers who for the most part may not yet be familiar with the advertiser's product, service or brand.
Data Mining – $$$$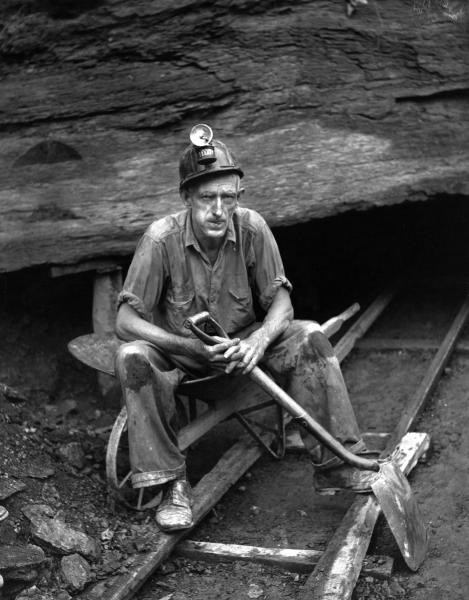 The life of a data miner…
Data can often be the only way to help you find that super-niche audience. Like retargeting this form of display buying is also based on the cookie in the browser, only in this instance the cookie is usually bought from a third party data exchange like BlueKai, TargusInfo, Exelate, etc. Again, there are limits to the number of cookies available. For example there are only so many users marked as in-market for women's swimwear. The different data types include in-market, past purchase, interest, demographic, B2B, and financial attributes. Not all data is created equal, though, so proceed with caution and consult with an expert. It's highly targeted, but it's also expensive so it might not always be cost effective.
Contextual Targeting -$$
With Contextual buying you target the site and not the user. There are a couple of approaches here:
Category – Target an entire channel of sites, like Home and Garden or Automotive. Each category is organized into a taxonomy of 2nd and 3rd tier categories so you're able to target a few layers down for more granular buying, e.g. Arts & Entertainment > Music & Audio > Country Music.
Custom Site List – Target a specific white list of sites either provided by the advertiser or generated by semantic tools and algorithms based off of the advertiser's site and other keywords.
Optimized Run of Exchange – $
Here you can serve ads on all four million websites and achieve massive reach at very low CPMs. Buyers can layer in additional targeting like only running in specific geographies or at certain times of day. Time of Day and Geo-Targeting can be also be applied to any of the other previous strategies as well. Additional optimizations by placement (Above or Below the fold), frequency, ad format, creative, site and category performance can also be applied, bidding up what works and bidding down what doesn't work. A well balanced media mix is key for success Having great CPAs is… well, great, but you need volume to move the needle. Finding the right mix for your campaign is a delicate exercise in creativity, budgeting, testing and measurement. Once you've shown your clients the power of retargeting, they'll be ready to take their display campaigns to the next level. If you have any questions, feel free to contact me at 805-804-5828 or stay tuned for my upcoming posts!