This is a repost of my monthly column from Search Engine Watch. 2011 will be a pivotal year for paid search advertising. Trends set into motion last year – new ad formats, an emphasis on display, a local ppc push – are on a collision course with the new complexity in advertising and the maturation of online marketing. This is the year that will fundamentally change how we think about and buy access to prospects, namely keywords. 2011 is the dawn of paid search without keywords. Changes from 2010: Universal Paid Search For years, Google's search results were dominated by the "10 blue links" – simple headlines, descriptions and URLs to entice and satisfy searchers.  Until it wasn't. Universal search wove in images, video and real-time updates. For most of its history, too, AdWords been presented in a text format even as the search results morphed into a multimedia experience. The result is that attention was pulled towards organic results at the expense of ads. Google countered that trend with their big push for universal paid search in 2010. It was, perhaps, the most radical evolution to the paid search results since the introduction of Quality Score. Consider the changes:
New Ad Formats – Text is no longer the exclusive medium for advertising on Google. No format exemplifies that more than Product List Ads (and their cousin, Product Extensions). There is no headline, copy or display URL. Instead, it's just a product image, name, price and vendor slotted in the highest positions on the right side. What's more, you don't choose keywords. We also saw display creep into image search results with Image Search Ads and traditional display ads
New Calls-to-Action – The way you satisfy your search with advertising on Google has evolved as well. Most notably, through the introduction of click-to-call as an option for mobile search ads (as well as the limited release AdWords call metrics). Similarly, more and more of the site experience is being pulled into the search results. The beta Comparison Ads creates a marketplace for loan and credit card comparison all on Google. The call to action is comparison and filtering, not just clicking on an ad.
New Buying/Monetization Models – Cost-per-click (cpc) and cost-per-thousand-impressions (CPM) are no longer the only ways you can buy. Comparison Ads are sold on a cost-per-lead basis. Product listing ads are sold on a cost-per-acquisition (CPA) basis for some advertisers (CPC for most).
New Display Targeting Options – Remarketing (aka retargeting) brought highly focused display buys to the AdWords interface. Specifically, the ability to only show display ads to segments of people who visit your site, in many cases after clicking on a text ad.
New Advertising Automation – In a move that radically simplifies advertising for small businesses, Google began testing Google Boost. It involves no keyword research and no bidding. If you have a Google Places page, you can even do it without a website. It's virtually hands-off advertising for SMBs.
Of those changes, Google Product Listing Ads and Google Boost offer the best glimpse into the future of paid search without keywords. They're notable for dramatic departures in every step of how you advertise on Google:
Targeting – automated targeting towards certain audiences as determined by Google vs. keywords chosen by the advertiser
Ads – Product listing ads bring a product search like result in the top position in the right column and Boost promotes a map-like result in a preferred position above organic results.
Pricing – CPA and monthly budget caps replace daily budgets and CPC bids.
These changes underlie some of the key trends that will shape paid search in 2011. . Trends that Will Shape Paid Search in 2011 In order for Google to continue their pace of growth, they need two things. First, they need to another line of business to complement AdWords and display advertising is it. They've pushed even more aggressively into the channel, most notably with the acquisition of Invite Media, a demand side platform. Second, they need to remove obstacles to profit and incremental growth within AdWords. These barriers are primarily how wide advertisers target and how much they pay for the people they reach (see: Why Google Wants to Eliminate Bidding In Exchange for Your Profits). As ad formats and advertising choices multiply, so does complexity. The third barrier to incremental growth is bringing new advertisers into the market and generating add-on revenue from existing advertisers. That requires reducing barriers to entry and scale. The solution to both of these problems was laid out in part in Nick Fox's keynote at Search Engine Strategies in 2009. Start the video below at 4:45. httpv://www.youtube.com/watch?v=2lqvtHIDnWU&feature=player_embedded His vision of search in 5 years is already here today and my prediction is that paid search without keywords will become even more prominent in 2011. The Dawn of Paid Search Without Keywords As search marketers, we're used to buying based on intent as expressed in the search query. We do that primarily through keywords paired with match types and bids. In paid search without keywords, intent is just one of 5 ways we'll target prospects: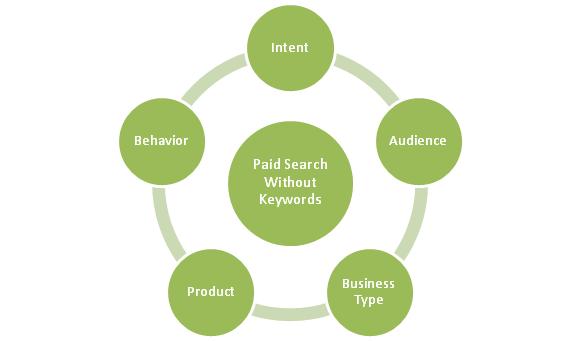 By Intent – Search behavior, as expressed through search queries.
By Audience – Demographics and psychographics, similar to traditional media and display ad buys
By Business Type – Certain verticals (personal finance) and markets (small businesses) will have special targeting
By Product – Online retail is one of the biggest spenders online and Google's Merchant Center can bridge products and ad space
By Behavior – Prior behavior and interests can make some audiences more valuable than others
We're seeing this already today in various forms, such as Product Listing ads and buying on the Display Network. Kevin Lee offers a compelling vision of how real-time bidding could further expand the way we buy paid search. How We'll Advertise on Google The difference between how we buy paid search today and buying without keywords is fundamentally about subtraction instead of addition. Think of a paid search account today. We target a niche and then gradually add other targets that define your total potential universe. We're adding pieces to make a whole. To consider the other side, let's take the example of Product Listing Ads. We don't choose when our ads show up; Google does. But we can set limits of what we're willing to pay, effective preventing products from potentially showing up. We're starting with a whole and subtracting out pieces. Remarketing offers a model for how this process will work.
We can set the target audience you want to reach, say people who put an item into their shopping cart.
Then, we can establish exclusions to remove some undesirable part of the audience, say those who complete a purchase (cart recovery being the desired goal in this example).
Finally, we set preferences for your buy – frequency caps, etc.
In paid search without keywords, we'll start wider and have to be vigilant about segmenting and excluding. We'll also have to start dealing with a very sophisticated competitor: Google. Google as Competitor There is something of a quirk in how new keyword-less features are being added, that presents a new dynamic in the auction. In some cases, these new tools offer a choice between managing the advertising, or at least the bidding, ourselves or giving full control to Google, as is the case with CPA pricing for Product Listing Ads. That creates a hybrid auction where some advertisers are controlling bids, while Google changes the bids of others while deciding whether both are eligible/relevant to appear. In effect, you are placing your bidding wits against Google's. It remains unclear what controls these new ad formats will include, what degree of reporting and the impact to traditional text ads, which will also compete for space and attention. What's Coming Next in Paid Search without Keywords? It wouldn't be a good predictions article unless I put my neck on the line with some solid ideas about what 2011 will hold for paid search marketers. I think 2 things are especially likely:
Impression Based Retargeting – Retargeting was a huge step forward for Google in display last year. But, they're leaving the fast majority of the opportunity on the table. If you're average clickthrough rate is 5% (which would be generous for some), then 95% percent of you're the people who were served your ad aren't even eligible to be retargeted to. But, what if you could target someone who searches, say, "organic dog food" with a banner ad on the Display Network? It opens ups a world of possibilities and budgets.
Automated Inventory Based Product Ads – I always think it's interesting that Google created an umbrella category for Product Listing Ads and Product Extensions called Product Ads. With retail being a significant vertical in paid search with large, constantly change inventory, I expect Google will continue their push to use Google Merchant Center. For example, we could easily see automated retargeting or regular banner ads filled with products you viewed or searched for, just like Criteo is doing today with Zappos.
. What This Means for Advertisers and Agencies No one but Google knows what's coming. But, it's clear that everyone needs to get comfortable with audience based buying, starting first with retargeting. The skills and tools to understand, target, and bid on various audiences exist today. Now there's an increased urgency to dig into them. On a final note, I specifically resisting the linkbait urge to title this post "the death of keywords", because they're not going anywhere. AdWords is too critical to Google's bottom line to disrupt that revenue until new ad formats and monetization models are proven and well adopted. One thing is certain, though: the future of paid search without keywords is coming in a big way in 2011.