For much of last year, regular readers of this blog know that we've talked about the idea of 'High-Resolution PPC'.
High-Resolution PPC is about clarity. It's about removing the confusion surrounding how things work, which measurements matter, and what you should do to drive better paid search results.
In the coming weeks and months we're going to share a lot more details and thoughts about this new way of understanding and managing paid search.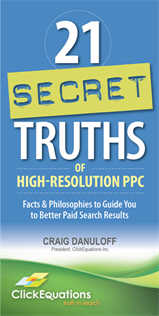 One huge milestone in that process will be the release, later this month, of '21 Secret Truths of High-Resolution PPC'.
This will be a free eBook available to anyone who requests it, and we'll have special full-color printed copies if you visit us at the SES, OMMA or SMX trade shows in March.
The book shares the 21 core facts and philosophies upon which we believe effective paid search management is based.
They're called 'Secret Truths' because this isn't a summary of the popular notions that typically pass for paid search best practices. This is a ground-up reconsideration of what each component in the system does, and a rebuild of how you should manage based on this fact-based (rather than faith-based) view.
One person who's seen the final book is Avinash Kaushik. Here's what he had to say:
"The glory of paid search is hyper relevance and how absolutely data driven it is. If your goal is to be the best you can be at paid search then your path goes through this e-book."
– Avinash Kaushik, Author: Web Analytics 2.0.
You can sign up now to be notified as soon the the download is released. (Note: If you signed up from previous mentions, we have your name so you're already on the list.)