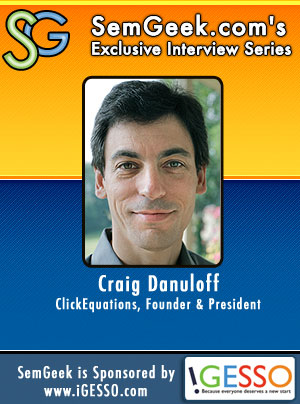 Greg Meyers, aka SEMGeek, posted an exclusive Q&A with ClickEquations President & Founder Craig Danuloff. Read the interview to Craig's take on the PPC market and what differentiates ClickEquations from the competition.
Here's a taste:
QUESTION #7. What would you say is the "secret sauce" of the ClickEquation's Platform? Is it a specific tool or a combination of functions?
ANSWER: I think our customer base would tell you that our 'secret sauce' is our deep understanding and real-world experience as paid search managers. What people get excited about is how our interface and features address the real-world needs of full time PPC managers who are working hard to maximize their results. As you know, the truth is most search managers are massively constrained by the limitations of their tools. We've knocked down at least some of those limits, and have our sights on many more.
Already, our ability to match search query with the associated keyword and match type is one example. Or to show you all the keywords currently below the Google First Page Bid Estimate. Or to review top performing keywords on one engine and show which ones are missing or performing poorly on another engine. These have real world advantages and to me knowledge none of our competitors offer any of these capabilities.
Read the entire interview at SEMGeek.
If you'd like to interview anyone at ClickEquations, please contact Alex Cohen, Marketing Manager – marketing@clickequations.com