There is an avalanche of long-winded marketing books out there, thank god for the Eisenberg brothers  for consistently creating refreshing and and useful content for digital marketers of all levels.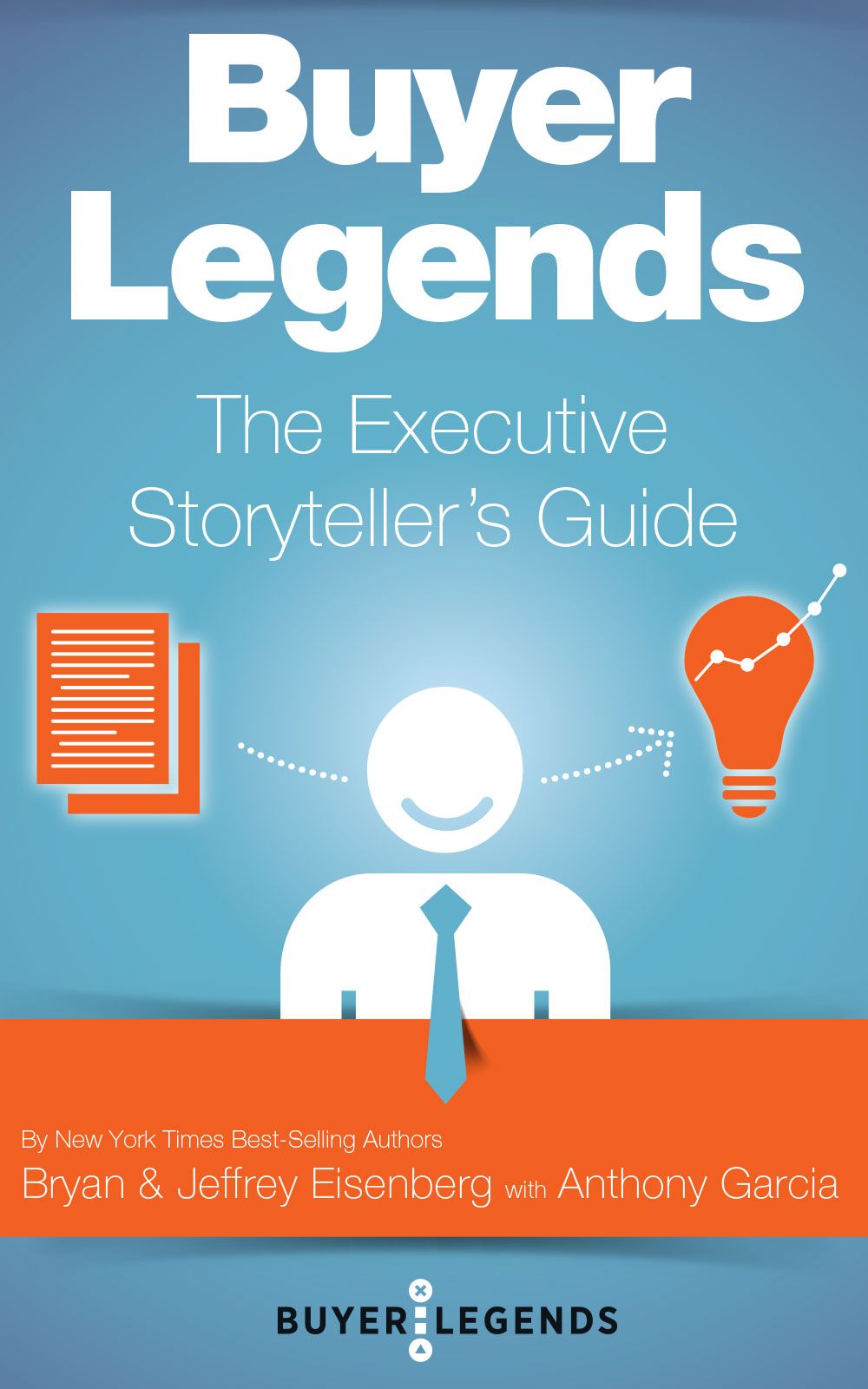 Bryan and Jeffrey Eisenberg co-author several Wall Street Journal, Business Week, USA Today and New York Times bestselling books including, "Call to Action" & "Waiting For Your Cat to Bark?". Their latest book "Buyer Legends: The Executive Storyteller's Guide" written with Anthony Garcia, is unique to anything the pair has ever created before.
The book, officially released today, describes a business process that combines the emotional power of storytelling with hard data to open new opportunities, identify gaps and optimize sales and marketing opportunities.
Here's what Bryan Eisenberg had to say about Buyer Legends.
What inspired you to create this book?
We spent a few years working with some teams at Google, which is to their tremendous credit, a very data driven organization.  We had to shortcut a similar process we have used with clients that would have taken months to implement. Instead we reduced the process to its purest form and  we learned that a persona based approach combined with the universal language of story was incredibly effective.  It helped their teams create better marketing collateral, execute faster, create buy-in interdepartmentally, and increased their numbers significantly.
With all positive reviews on Amazon, and already more than 50 reviewers before the official release, most readers have commended this book for being actionable. Was that the goal of the book?
Yes it was.  We wanted people to walk away with more than just another big or interesting marketing idea.  We wanted the reader to actually experience how powerful this simple process is so we wrote the book to be approachable and highly actionable.
Bryan, this is book number 5, how does this book differ from the work you've done in the past?
This book was harder to write, but also more satisfying.  Writing a short book is difficult for the same reason writing headlines is often difficult, because you are trying to pack as much meaning into every word and sentence as you possible can and there is no room for fluff or fat.  Anthony has been working with us for more than 10 years and has always been a leader behind the scenes, so this have been fun for him and for us to see him step on to the stage and take a more visible role.
Who can benefit most from this book?
We did target this book at marketing executives as they are usually responsible for a large swathe of the customer experience and, in turn, be a natural audience that would be empowered to implement Buyer Legends.  But truly any organization can benefit from storytelling as well as almost any department within an organization from the boardroom to the stockroom.  It doesn't matter if the customer experience is offline, or online, or both.
Buyer Legends can be used for mobile, desktop, product development, sales, in cross channel and multi channel application as well.  And the process we outlined in the book was designed to walk anyone at any level through creating Buyer Legends and get some benefit immediately.  Of course the more you use the process the better you will become as well.
The book is just 46 pages, did you cut it down to make it short and sweet or was that all you needed to say on the subject?
We did cut it down, and we always have plenty to say on a variety of topics.  So this was a concious effort to provide a practical framework that could easily be adopted by most company cultures.  To do that we knew that busy executives didn't have the time to read a lengthy book or try to execute a complex set of processes.  Any team or organization can  craft their own legends to effect any customer experience in any situation, and there are specific applications of Buyer Legends that we do plan on writing more about in the future.
For example we will be teaching courses on using Buyer Legends for content planning and creation, we call it Content Legends.  We are also working on a Testing Legends course that will address using story to improve testing and analysis.  While the principles of Buyer Legends are universal, we know that the application of them can be very industry and discipline specific.
What has been the best reaction to this book?
We are very thrilled with the feedback so far.  People are reading the book and are trying out the process, implementing changes, and seeing results quickly.  A smaller online retail player who does a few million a year saw a 46% increase from a Buyer Legends implementation.  We have heard from everyone from  a brick and mortar mattress store to an IBM executive that was able to execute on the book quickly without waiting months and months.
If you want to get your hands on a copy of the book (or the ebook) you can purchase it here on amazon.
Or, if you want to find out more from Bryan Eisenberg in Acquisio's upcoming ebook, "The Future of Digital Marketing: 15 Expert Predictions for 2015."