Last week in Occam's Razor, Avinash Kaushik discussed our 'What's Changed' reports, which make it easy to see which campaigns, ad groups, or keywords are doing better or worse than they were previously.
These reports showcase a core feature of ClickEquations, the ability to compare performance between any two periods and to very easily see the difference between performance in those two periods. It's a feature that was actually inspired by an earlier post on Occam's Razor, and was the direct result of a conversation we had with Avinash early last summer.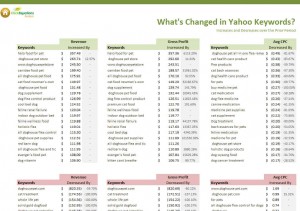 (Click To Zoom)
In his original post, Avinash compellingly makes the case that top 10 lists are only of limited use. Or more accurately, they're extremely useful but only for a limited time. Once you understand the top 10 of anything, it doesn't tend to change so looking at the top 10 keywords or top 10 ad groups day-after-day really isn't going to help drive constant campaign improvement.
But if you look at the top 10 keywords based on rate of change in volume, or based on delta in cost-per-click, or based on increasing ROI, then you've got some interesting and in almost every case actionable date. (Of course, 10 isn't a magic number, it could be the top 25 or top X. If Letterman ran a top 11 list every night, would we all say Top 11?)
Prior Period & The Delta
Taking this insight to heart, we made it simple to pull two new pieces of data for any metric available within ClickEquations: the prior period version of that metric and the size of the delta between the current period and the prior period. So if you're running a report for 'this month' and ask for the number of conversions for a keyword, for example, you also get back the number of conversions for 'last month' and the 'delta' between those two values.

We use this in many default reports to conditionally format numbers and present the % change represented by the new value. So in the dashboard below we see that revenue is down 3% in Google. (Click Image to Zoom)

The full What's Changed Reports that Avinash mentioned display results for many different metrics – Revenues, Profit (ROI), Average CPC are the defaults – sorted by the amount of change in the current period vs the prior period. Each report shows the top 10 for each metric by amount of change in terms of both increase and decrease.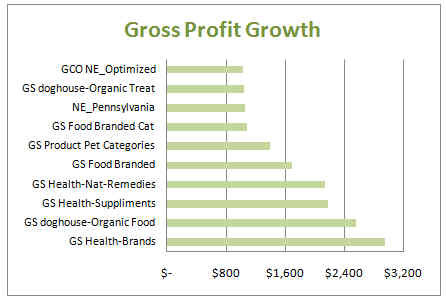 Each report also includes a handy bar chart showing the growth in revenue, in this case by campaign.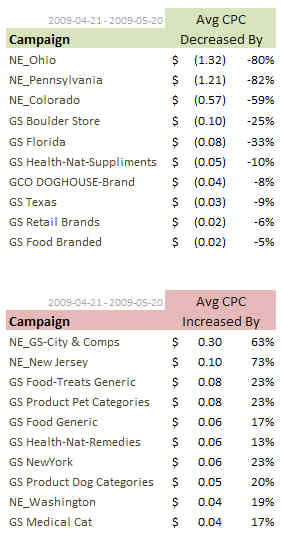 The default reports provide all of the above for Google and Yahoo (on separate pages), and cover both Campaigns, Ad Groups, and Keywords. By default they're month over month reports, but using our Quick Change Palette you run them for any time period with a single click.
Making more significant customizations is pretty easy. You can change the metrics to shift Profit (ROI) to ROAS, for example, or any metric to any other. You can even customize the dates of the 'prior period'.
All ClickEquations Delta reports automatically calculate values for the mirror-image prior period of any specified date range. So if you request a report for yesterday, the numbers will compare yesterday to the day before yesterday. If you choose this week, the report will compare this week to last week. But you can elect to specify the prior period as any arbitrary period, so you could compare this month to last July, or Valentines Day weekend to Presidents Day weekend, or whatever you'd like.
What's Changed Reports can easily be created for other aspects of your PPC campaign too. Want a report to show the top 25 products selling faster this month than last month? How about one showing the geographies where sales are dropping the fastest? Each of these and many others are rather quick customizations in ClickEquations Analyst – after which they can be refreshed with one button push anytime.
A Sneak Peak
We've come to think very highly of these What's Changed Reports as action drivers for PPC campaigns. So much so that in the next release of ClickEquations, we've moved the core What's Changed reports onto the main dashboard. In a new tabbed-reports interface, you'll be able to see the campaigns or keywords which are 'changing' anytime, and quickly dive into more details or to take corrective action.
Watch for more news on our upcoming release in the next few weeks.