Paid search accounts are filled with history and failures. Campaigns we're no longer running, keywords that didn't work, and text-ads that failed or just wore out.
Many of these aren't ever deleted, they just kind of linger, cluttering our reports and screens.
The ClickEquations custom filters allow you to remove these items. You can choose the statuses you want to show, and leave off those you want to hide.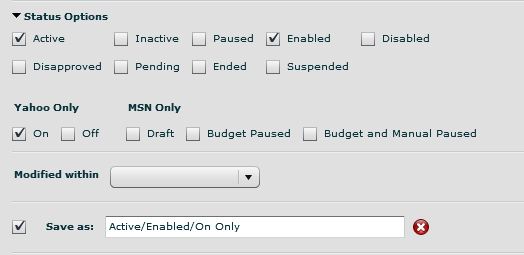 To make this even easier, create a named/saved filter. To do this:
Open the Edit Filter dialog box. (In Manager, under the Filters and Views pop-up)
Click the black arrow next to Status to open the status choices.
Choose the Active, Enabled, and On status options.
Click the check box next to 'Save As'
Give your filter a name like 'Active/Enabled/On Only'
Click OK.
Now you can get remove all paused, inactive, deleted, and off items from any tab by just choosing your new filter from the Apply Saved Filter menu.