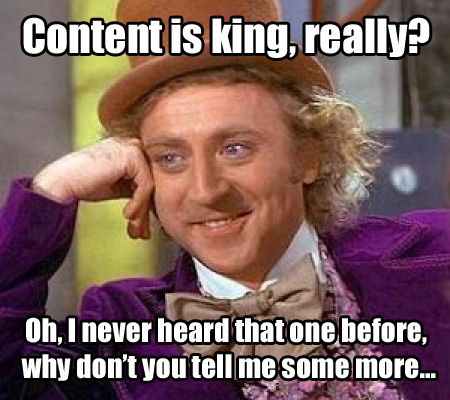 Content is king. Sure, whatever. Water is also wet, but who cares? Every marketer should know that you need content, and good content, but what does your content really amount to if it's no different from what everyone else is doing?
Some brands publish content sporadically, and some publish every single day. Why does content marketing work for some brands and fall flat for others? You want your content to be the person who everyone at the party talks to because it's engaging, not because it's in their face about how "the right insurance package is really about securing your family's future in case of the worst."
So how do you strike that balance where your content is remembered, but for the right reasons? Well, by (1) focusing on your readers' needs, (2) standing out from the competition, and (3) consistently delivering on its value.
Think Like a Marketer AND a Publisher
Working with branded content is a constant give and take between the two-headed beast that is marketer vs publisher. Creatively speaking, marketers put their first foot forward by figuring out what it is they want to say. Which is fair; a good marketer knows their brand, and they know how to get their audience to also know the brand.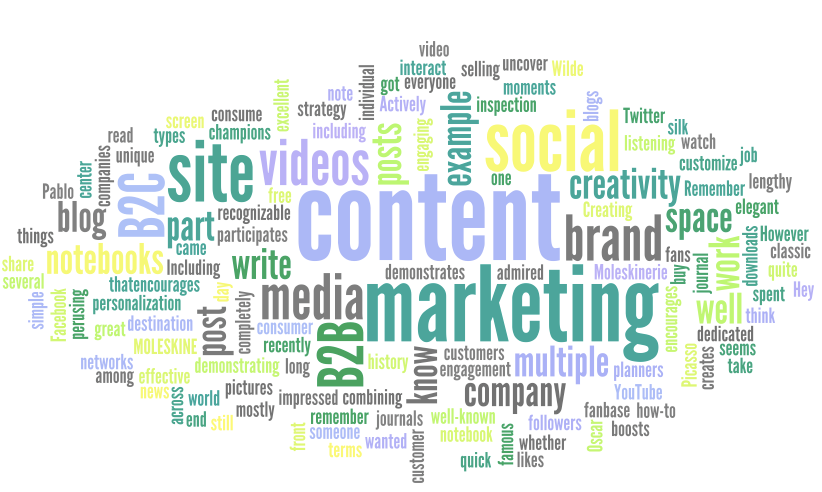 Publishers on the other hand, reside at the other end of the spectrum; they're all about what readers want to hear. And having this kind of publisher's mentality is key to a successful content strategy. In short, your branded content should be all about connecting with your audience through meaningful interactions, not through aggressive value propositions and ad campaigns.
If your audience is already visiting your site, or reading what you have to say, chances are they don't need the big push that comes from seeing a heavily branded message. This is why with branded content, you're pushing your marketer's instinct aside — but not completely away — while taking a customer driven view à la publisher. Yes, sometimes your content must be heavier on the branding (with branded storytelling for example), but subtlety is the golden rule, and all of your branded content should avoid directly schilling for your product or service.
Understand your Competitive Mindset
Just as your brand (and its products/services) need to stand out from the competition, so does your content. As Nathan Lump pointed out while at his former post as Director of Branded Content for Condé Nast:
Brands should think about what differentiates them, not just from their business competitive set but from their content competitive set.
Essentially, just as your products/services have a unique selling proposition (USP) vis-a-vis your competition, so should your content. In other words, the kind of content you're producing, and how you go about producing (and syndicating) it should reflect your brand and its USP.
And we're already seeing this with particularly brand conscious organizations. Take Luxury Retreats, for example, a brand that distinguishes itself from the competition through the quality of its service and prestige of its product offering. When they launched their luxury travel magazine, it was probably because they knew that their old company blog was no longer equipped to meet the realities of modern content marketing. They needed something that was more focused on appealing to the interests and needs of luxury travelers specifically, rather than a platform that simply featured general travel advice/insight, company news, and seasonal promotions. By tailoring their content, in other words, to reflect both their brand and their customer's unique interests, they're able to connect with their audience better than ever.
Have a Sustained Commitment
Part of any brand is brand consistency, and if you're going to be conscious about your content's own brand and USP, then you have to be ready to commit to delivering that distinct value proposition on a consistent basis. This means developing a kind of editorial calendar and sticking with it so that your audience knows not only what they're getting from your content, but when they can expect it.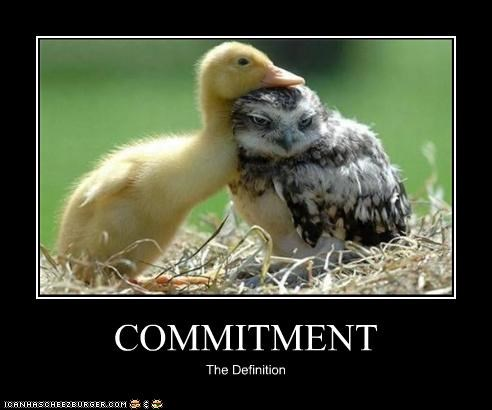 This is why it's crucial to have an always-on mindset vs an episodic one. You can't produce branded content sporadically or whenever you want; give customers a constant stream of engaging material to check out. This being said, don't overkill it because otherwise your brand will be just another content spammer that the internet hates. There's a fine line between being the cool brand whose content is the stuff of water-cooler banter and being the lame eye-roll inducing label of the internet.
Don't post because you have to, post content because you have something your audience is going to engage positively with. Going back to Luxury Retreat Magazine, they for instance publish once a day, seven days a week, which is enough for them to be consistent in their commitment, but not so much that they're spamming readers (and customers) with content just for the sake of it.
Branded content is about community. You tell the story about your brand, the feelings and experiences that go with it, and you attract a target audience of like-minded people who share the same values and interests. But establishing who your brand is isn't enough to sustain your community; you need to craft, foster, and maintain a content footprint that not only lasts with your audience, but also makes them want to come back to you time and time again.